The field of journalism was once stagnant, and so were the methods of training.
Now it's a rapidly changing field, and Kansas University's biggest goal is keeping pace, said Jimmy Gentry, dean of the School of Journalism and Mass Communication.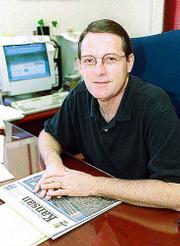 When Gentry began at KU four years ago, the journalism school was extremely traditional. It churned out students proficient in print, broadcast or public relations techniques, but rarely if ever all three.
"Students were getting a fairly rigid education," Gentry said. "The faculty felt that students will need to know more than one skill."
Gentry's staff developed a new model, which began last year and continues to expand.
Students now choose one of two tracks: news information, including newspaper, magazine and broadcast news; or strategic communication, including advertising, business communication, and broadcast sales and management.
The ideal result of the new curriculum will be students who are well-versed in many types of media, yet still marketable in a specific field.
"We believe you can walk and chew gum at the same time," Gentry said. "Some say you can't do both, but we believe you can."
Despite its pioneer efforts in convergence, the school is still best known for its traditional strengths, namely copy editing.
"Accreditors said writing, reporting and editing are the soul of the school," Gentry said.
KU hopes to add to its growing list of trademarks by mandating an ethics course for all students in the school. The course has traditionally been required for print journalists, but that will change this semester.
"We have this quaint idea that all journalism students should learn about ethics," Gentry said.
Undergraduates won't be the only ones going through a new curriculum. A new graduate model, which emphasizes research theory, was approved last year and will go into effect this fall.
Students in the school can expect a lot of interaction with their professors and classmates, Gentry said.
"There's a closer relationship between faculty and students in the journalism school than in other schools," he said. "Our students' and professors' discussions are not purely academic; they focus on life and career preparation."
It's never too early for students to start building a rmnd making contacts, he added. New students can join the pre-journalism club and are advised to take the Media and Society class as soon as possible.
The campus newspaper, The University Daily Kansan, as well as campus radio and television stations are great places for students to get their feet wet.
"It's possible that even as freshmen, students could work for these outlets," he said. "Some units on campus are oriented to a research agenda, but our focus is practical experience."
Finding new ways to expand the converged curriculum has taken up most of the faculty's attention. But Gentry said they will have to turn some of that focus toward raising money for KU's capital campaign.
"We'll be talking to alumni and friends of the university to seek much-needed funding," Gentry said.
Since the Legislature snubbed technological funding this year, the school is relying on private funding now more than ever.
"The fact that the Legislature did not renew the 2-for-1 match really hurt because media depends on technology so much," Gentry said.
Funds from the campaign will help build a multimedia newsroom, create several endowed chairs, increase student assistance and add scholarships.
Copyright 2018 The Lawrence Journal-World. All rights reserved. This material may not be published, broadcast, rewritten or redistributed. We strive to uphold our values for every story published.