New York — A police officer charged with killing three family members as he drove to work drunk was released on $250,000 bail Friday as the department fired three of his colleagues and announced changes in the staffing of midnight shifts.
Officer Joseph Gray, 40, was freed after pleading innocent to manslaughter charges. He is suspended without pay but is entitled to remain on the force pending a departmental hearing because he is a 15-year veteran.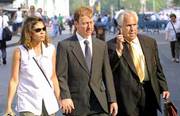 Gray was allegedly drinking with 17 other officers for several hours Aug. 4 before his overnight shift. He is accused of running over Maria Herrera, 24, her son Andy and her 16-year-old sister, Dilcia Pena. Herrera's baby boy, Dorian, delivered by Caesarean section after the accident, did not survive and was buried in his mother's coffin.
Gray's release on bail infuriated the dead woman's husband, Victor Manuel Herrera, who arrived at the courthouse clutching photos of the relatives he buried Thursday.
"He is supposed to be locked up," Herrera said. "He is supposed to be alone and feeling what I'm feeling. He does not deserve to be with his family. He wiped out my whole family."
Commissioner Bernard Kerik announced the procedural changes shortly after the hearing.
Two of the fired officers, John Welsh and Craig Hildebrand, had been with Gray at an off-limits strip club near the 72nd Precinct stationhouse, Kerik said. A third, Edward Sills, allegedly had been drinking with Gray in a police parking lot.
The three could be fired at the commissioner's discretion because they were on probation. Welsh and Hildebrand were probationary officers because they had been on the job for less than two years. Sills was on probation after pleading guilty to a drunken driving charge last year.
The other 14 officers were either transferred, suspended without pay or placed on desk duty without their guns and badges.
The officers' union, the Patrolmen's Benevolent Assn., called the dismissals "arbitrary and capricious."
Copyright 2018 The Associated Press. All rights reserved. This material may not be published, broadcast, rewritten or redistributed. We strive to uphold our values for every story published.