An all-terrain wheelchair is designed to make life more accessible for individuals with disabilities.
Tracabout, a Newton-based company, manufactures wheelchairs that travel on tracks instead of wheels. The wheelchairs move over sand, mud, snow and gravel as easily as they travel on hardwood or carpet flooring.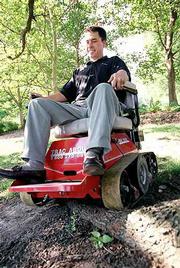 Scott Swedlund of Tracabout said the all-terrain wheelchair can climb a 30-degree incline or a 5-inch curb.
"It's wide enough at 28 inches to go through a door, but the 35 inches worth of track touching the ground gives you tremendous traction and power," he said. "It's like comparing a bulldozer to a car."
In March, the 410-pound IRV 2000 model received approval from the Food and Drug Administration, Medicare and private insurance companies.
Right now, only 20 of the all-terrain wheelchairs are in use, but Swedlund said the company is expanding its distribution nationwide.
"It's perfect for a child who wants to go out and play in the snow or an elderly person who wants to get out and do their gardening," he said.
The wheelchair moves at 3.5 mph and is controlled by a joystick, which can be programmed for individual preferences.
But all-terrain access does have its price: The Tracabout sells for $12,750.
"Your limitations are based on your desire, not your capability," Swedlund said. "This opens a whole new world for people with mobility challenges."
Copyright 2018 The Lawrence Journal-World. All rights reserved. This material may not be published, broadcast, rewritten or redistributed. We strive to uphold our values for every story published.