A sense of fairness will guide Angela Lumpkin as dean of education at Kansas University.
She helped write a book on the subject, co-authoring "Sport Ethics: Applications for Fair Play."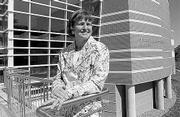 "My time here will be guided by it," Lumpkin said. "It's the only way I know how to operate."
KU sought a replacement for Karen Gallagher, KU's education dean from 1994 to 2000, when she became University of Southern California's education dean.
Lumpkin emerged from among six finalists to be named the education school's 14th dean. She started work June 4.
Lumpkin was education dean at State University of West Georgia from 1996 to 2000.
She previously taught at North Carolina State University and the University of North Carolina.
KU Provost David Shulenburger said the university was fortunate to bring in a person with Lumpkin's teaching and leadership background.
"Her faculty and administrative experience in two premier research universities, coupled with the four years she served as dean of the State University of West Georgia, has prepared her to lead our school," he said.
New building, high standards
Lumpkin said she appreciated the opportunity to lead a highly regarded education school.
"This is one of the top 25 by anybody's ranking schools of education in the country," she said. "The opportunity to help that school was very exciting."
U.S. News and World Report recently ranked KU's education school 17th among public universities. The publication also ranked KU's graduate program in special education as No. 1 in the nation.
In April, the school dedicated a $14.1 million building for the school's 82 faculty, 29 professional staff and 2,700 students.
"It sends a real important message there," Lumpkin said. "It's an enormous investment in faculty and students."
Lumpkin praised Gallagher for streamlining the school's structure to four departments health, sport and exercise sciences; psychology and research in education; teaching and leadership; and special education.
"It helps build a unified whole," Lumpkin said.
Time for listening, action
Lumpkin said opportunities for improving the school's teaching, research and public service missions should surface during the year.
She doesn't profess to have all the answers.
"You can't come in as professor know-it-all, be-all," she said.
Lumpkin said her task as the school's new leader would be to build upon faculty accomplishments and honor the contributions of Gallagher and the interim dean, Jerry Bailey.
Key goals for the next year:
Evaluate the undergraduate teacher education program. It has national and state accreditation, she said, but it has "reached a time in its life span to reassess our programs."
Scott Miller, who plans to enroll in KU's education school, said the dean's goal of making the academic program more relevant to the actual classroom experience of teachers was important.
"I don't want to be a mediocre teacher," he said. "I want KU to help prepare me to be a great teacher."
Study potential of targeting graduate program re-sources. KU wants to remain a national leader in special education.
"We may not do it in every area," Lumpkin said. "That will be a faculty discussion."
Help Kansas respond to the pending teacher shortage, especially low representation of minorities in Kansas.
"We want the teaching force to be a reflection of student bodies," Lumpkin said.
About 70 percent of U.S. teachers are white, while 40 percent of students are minorities.
"You've got children who don't see someone like them at school."
Consider expanding KU's dissemination of education research over the Internet. The school could seek grants to finance Web sites for use by teachers nationwide.
Hoops to administration
Lumpkin is no stranger to one activity at KU that gets Jayhawks' blood pumping. She was UNC's head woman's basketball coach from 1974 to 1977, and was on the faculty in Chapel Hill to witness the beginning of Roy Williams' college coaching career.
"I resigned as coach to concentrate on teaching," she said.
Lumpkin was raised in Arkansas along with two siblings. Her parents her father was a minister grew up in the Depression and viewed education as essential to their children's future. A brother went into the Air Force, while the Lumpkin sisters became teachers.
Lumpkin earned four degrees: a bachelor's in physical education at University of Arkansas, a master's in sport administration and a doctorate in sport history at Ohio State University and master's in business administration from UNC.
"Education was highly valued in our family," Lumpkin said. "Our parents saw education as a way for their kids to get ahead."
Lumpkin said education remains the answer.
"It's the ticket to the future, which is why public schools need to be called upon."
Copyright 2018 The Lawrence Journal-World. All rights reserved. This material may not be published, broadcast, rewritten or redistributed. We strive to uphold our values for every story published.