More than 50 percent of the students enrolled at Kansas University are likely to receive some form of financial aid assistance.
During the 1999-2000 academic year, KU awarded $94.12 million in grants, loans and scholarships to 53.1 percent of the students enrolled.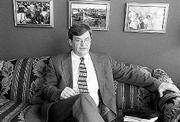 Statistics for the last school year won't be available until later this fall.
Every little bit of money helps when the average student debt for four years is $17,900.
"We know as the cost of education increases, students have to borrow more, but we encourage them to only borrow what they absolutely need rather than to incur a huge amount of debt when they graduate," said Brenda Maigaard, interim director of KU's student financial aid office.
Though federal student loans are the most common form of financial aid, about 25 percent of the student population receives scholarships.
Alan Cerveny, director of admissions and scholarships, said KU's Endowment Association dispersed about $12 million in scholarships during the last academic year.
"The awards depend each year on the top students applying and the dollars available," he said.
To be eligible for a scholarship, Cerveny said, high school seniors must apply in the fall and financial aid forms must be completed by March 1 before they graduate from high school. He said there are several scholarship committees that review the applications. A students' grades, courses taken, test scores, financial need and involvement in school, sports, community and other activities are factors in the decisions.
"They are looked at by a real person and it doesn't always matter if a student was involved in lots of clubs or activities," he said. "It may be they weren't involved in the clubs, but there was some clear evidence of leadership, initiative and commitment elsewhere. We look at the quality of involvement."
Cerveny also urged high school students to send in their scholarship applications as soon as they can. Even if students aren't sure if they're going to attend KU, he said, they can always refuse the scholarship later without any penalties.
"Don't wait until the last minute," he said. "When dealing with scholarships, we're looking at limited dollars."
Cerveny said the top award for freshmen is to be selected as National Merit Scholars, who receive their distinction based on academic records, test scores and extracurricular activities. The four-year scholarship covers students' tuition and fees as well as housing costs at a scholarship hall or similar reimbursement for a residence hall or off-campus dwelling.
Last school year, KU had 116 National Merit Scholars a record number for KU and ranked eighth in the nation among public universities. During the previous school year, Kansas ranked ninth nationally with 101 National Merit Scholars.
Cerveny said two of the university's oldest and most prestigious scholarships are the Summerfield and the Watkins Berger scholarships, which are renewable. The $2,500 scholarships are awarded to the top 50 men and women each academic year.
But, he said, freshmen students most often receive the Freshman Honors scholarship for $500 or the Whitaker Leadership scholarship for $1,000.
KU also awards merit-plus-need scholarships to students who have demonstrated financial need.
"We want to make sure needy students have access to these dollars. I think the university has been sensitive about that issue," he said. "Would we like to have a lot more? You bet."
For freshmen who don't receive scholarships, Cerveny said, they will have a good chance to receive one during their upper-class years through specific departments.
"There are more opportunities when they are more established in their majors," he said.
Cerveny said KU couldn't offer the scholarships without the efforts of the KU Endowment Association, which raises the private donations.
"These scholarships do play an important role in the recruiting office here," he said.
Each year as the costs rise for college education, Cerveny said, the need for more scholarship dollars increases. Unlike loans, scholarships and grants are the only forms of financial aid that do not have to be paid back.
"With all of our scholarships, there's always a need out there for additional support," he said.
Copyright 2018 The Lawrence Journal-World. All rights reserved. This material may not be published, broadcast, rewritten or redistributed. We strive to uphold our values for every story published.