Bradley Kemp, assistant director of public affairs at the Kansas University's Natural History Museum, said the museum has a lot to be proud of when it comes to its specimen collection.
"We have one of the best collections in the world," Kemp said. "And we have many people who work very hard to assure the collection is maintained."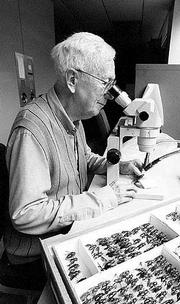 Although the collection isn't part of the typical tour of the Natural History Museum in Dyche Hall, Kemp said he encourages and welcomes the public to request a private tour.
The collection is extensive. It consists of more than 6.1 million plant and animal specimens. Kemp said the purpose of the collection is for bio-evolutionary studies to establish evolutionary relationships.
The specimens are grouped into several categories: botany, entomology, herpetology, ichthyology, invertebrate paleontology, mammalogy, ornithology, paleobotany and vertebrate and invertebrate zoology.
The collection is the work of years of gathering by graduate students. When specimen collections from other institutions are no longer maintained, KU sometimes has the opportunity to purchase their samples, thus adding to the expansive group of plants and creatures.
Kemp said the closest collections in relative size can be found in Lincoln, Neb., and Oklahoma. The museum's collections are among the top 20 systematics research collections in the country.
"The most interesting collection we have is the mammals collection. It's the best in the world," Kemp said. "We also have the second-largest plant collection, the best Great Plains flora, the nation's premier botany collection, the world's best bee collection and a very strong fish collection."
The collection was started 120 years ago, driven largely by the personalities of the collectors. Kemp said the collection is much more focused now.
"We begin with a question, then data, and then we try to establish a relationship," Kemp said.
The collection requires constant maintenance. Curatorial duties are shared by 18 collection managers and 50 to 60 graduate students.
As long as the pieces in the collection are properly stored, they can last for a long time without any attention. But for those that need help, Kemp said, the students are eager to get to work and learn.
Specimen collections can be found in Dyche and Snow halls. For personal tours of the specimens contact the National History Museum and Biodiversity Research Center at 864-4450.
Copyright 2018 The Lawrence Journal-World. All rights reserved. This material may not be published, broadcast, rewritten or redistributed. We strive to uphold our values for every story published.