Chicago — The wind was blowing in and Barry Bonds was sitting on the bench more than favorable conditions for quick-working Jon Lieber to get his 15th victory.
Lieber allowed eight hits Friday, pitching his fourth complete game as the Chicago Cubs beat San Francisco 9-3.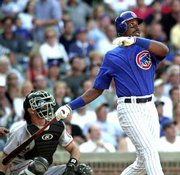 "Mother Nature helps a lot," Lieber said. "They're a very aggressive team and I was aggressive, too. I figure if I hit my spots, I'll be successful."
Lieber didn't have to face Bonds, who was given the day off to rest. He also benefitted from an offense that jumped out to an early 5-0 lead behind Michael Tucker's homer.
The Giants, who had won 12 of 14, fell 11/2 games behind the Dodgers in the NL West, while the Cubs increased their lead over Houston in the NL Central.
Lieber, 9-1 in his last 11 starts, lost his shutout in the sixth when John Vander Wal hit an RBI grounder.
Lieber (15-5) walked one and struck out four in the 17th complete game of his career.
"The bullpen needed a break and everybody knew that," Lieber said. "I was glad I was able to help out."
Fred McGriff put the game out of reach with an eighth-inning grand slam off Aaron Fultz that made it 9-1. It was McGriff's first Wrigley Field home run with the Cubs since being acquired July 27.
Shawn Estes lasted just 41/3 innings, giving up three hits and five runs. The temperature was 77 degrees with an 8-mph wind blowing in, a complete contrast to a day earlier when it was a muggy 92 with the wind blowing out.
Bonds hit his 49th homer Thursday night in Cincinnati, but manager Dusty Baker his 37-year-old star a day off after the team didn't arrive at its Chicago hotel until nearly 2 a.m.
Sosa, who hit three homers against the Rockies on Thursday, drew three walks and went 0-for-2.
D'backs 7, Braves 0
Atlanta Curt Schilling pitched seven scoreless innings to become baseball's first 17-game winner, and Arizona defeated the error-plagued Braves. Schilling (17-5) allowed only one runner to reach second base before Javy Lopez and Mark DeRosa led off the eighth with consecutive singles. Atlanta's lead in the NL East shrunk to a game as Philadelphia beat Los Angeles. The Braves made three errors for the second night in a row.
Phillies 10, Dodgers 5
Philadelphia Scott Rolen doubled twice, tripled and drove in three runs and Pat Burrell hit a grand slam as Philadelphia defeated Los Angeles. Philadelphia snapped a six-game losing streak against the Dodgers that dated to last season. Rolen, criticized by Phillies' senior adviser Dallas Green on Monday, is hitting .351 in his last 10 games with five homers and 13 RBIs.
Padres 3, Pirates 2
Pittsburgh Rickey Henderson hit a go-ahead homer on the night the Pirates honored newly inducted Hall of Famers Bill Mazeroski, and San Diego beat Pittsburgh. Henderson's two-run homer followed pitcher Brian Tollberg's leadoff single in the fifth inning. Losing pitcher Dave Williams (1-4) was the fifth rookie starter to face San Diego in six games. Tollberg (6-3) got the victory. Trevor Hoffman earned his 28th save.
Cardinals 7, Mets 6
10 innings
New York Craig Paquette hit a sacrifice fly to score Kerry Robinson with the go-ahead run in the 10th inning as St. Louis rallied from a five-run deficit. Rick White (3-3) hit Robinson with an 0-1 pitch to start the Cardinals' 10th.
Albert Pujols moved Robinson to third with a hit-and-run single and, Paquette hit a high fly to center.
Astros 7, Marlins 2
Miami Pedro Astacio earned his first win for Houston and Vinny Castilla had four hits, including his 15th homer, and drove in three runs to lead the Astros past Florida. Astacio (7-13) allowed five hits and two runs in 71/3 innings in his second game for Houston since being acquired from Colorado. His start was pushed back three days because of inflammation in his right triceps.
Jeff Bagwell hit his 29th homer, and Craig Biggio had four of the Astros' 15 hits. They took an early 7-0 lead against A.J. Burnett (8-8), who lasted just three innings in the shortest outing of his three-year career.
Houston has won eight of its past 10 games and three in a row to climb a season-high 15 games above .500.
Rockies 16, Reds 7
Cincinnati Shortstop Juan Castro threw two balls into the Cincinnati dugout during Colorado's six-run sixth inning, helping the Rockies pull away. Jose Ortiz went 5-for-6 with a three-run homer and Larry Walker also hit a three-run shot for the Rockies, who have scored 30 runs in their last two games. Colorado matched its franchise high for runs in a road game. The 16 runs were a season high.
Ken Griffey Jr. hit a two-run homer, extending his hitting streak to nine games, but the Reds couldn't overcome Castro's mistakes. Dan Miceli (1-5) got the win, and Chris Reitsma (5-12) took the loss.
Brewers 5, Expos 1
Montreal Jeromy Burnitz homered twice and Ruben Quevedo struck out a career-high 11 to lead Milwaukee over Montreal. Burnitz hit a solo shot off Mike Thurman (6-8) in the fifth. After Mark Loretta homered with two outs in the seventh, Burnitz hit his 24th homer of the season.
Copyright 2018 The Associated Press. All rights reserved. This material may not be published, broadcast, rewritten or redistributed. We strive to uphold our values for every story published.