Alice Summers says it was no ordinary cat stalking around her west Lawrence home at 7:30 a.m. Friday.
"My dog was tied to the front porch and started barking, so I looked outside, and 20 feet from my dog was this lion," Summers said. "The lion stared at us like it was sizing us up and continued to stalk our house for half an hour."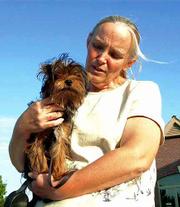 Summers is convinced her early-morning caller was a mountain lion. Wildlife experts say the species is long extinct in Kansas. The last confirmed sighting was in 1904. Yet unconfirmed sightings like Summers' persist.
The cat at Summers' cul-de-sac home in the 1800 block of Foxfire Drive was 2 feet tall with a thin coat of blond fur, she said. It had a smooth face, short ears, unpronounced whiskers and a short tail. Summers said she stared at the animal through binoculars from inside her house.
But mountain lions, of course, have long tails.
The animal could have been someone's exotic pet, a mountain lion or cougar with a clipped tail, said Robert Timm, curator of mammals at Kansas University's natural history museum. But, he said, that's unlikely.
"The question of whether mountain lions exist in Kansas has been hotly debated," he said. "I'd hate to say (Summers) didn't see a mountain lion, but it shouldn't be in town. It's possible what she saw was a huge, domestic cat."
Mountain lions feed on white-tail deer, which are abundant outside Lawrence. The animal, should one exist in Douglas County, wouldn't likely venture into the city where food is scarce, Timm said.
"It is legal to own lions and tigers (outside the city limits), and animals do escape," he said. "But there's no reason to believe a truly wild mountain lion would be that far into town."
Lawrence police get few calls reporting dangerous wild animals, said Sgt. Doug Bell, animal control supervisor. He has never received a call about a mountain lion.
"We certainly aren't aware of any (mountain lions in Lawrence) unless it escaped from a private individual," he said. "They are almost nonexistent."
Animal Control handles every call on a case-by-case basis, Bell added. If a wild animal is reported and considered dangerous, police may kill it. Animals that don't pose a safety threat are typically left alone.
"Unlike the movies, we do not dart the wild animals and take them back into their habitat," Bell said.
Summers said she called Lawrence police Friday and was referred to the U.S. Department of Wildlife's Topeka office, where she left a message. Mountain lion or not, her new neighbor is frightening, and she wants it removed.
"My dog would have been that animal's meal," she said. "If we were in the country on a farm, I'd say that's the way life is. But we're in a neighborhood where dozens of kids go out to play and people take their dogs out."
Copyright 2018 The Lawrence Journal-World. All rights reserved. This material may not be published, broadcast, rewritten or redistributed. We strive to uphold our values for every story published.