Mary Faith Marshall can turn the act of getting directions into a philosophical adventure.
As a recent visitor prepared to leave her office at Kansas University Medical Center in Kansas City, Kan., he tried to orient himself to get to the parking lot, but warned he wasn't good with directions.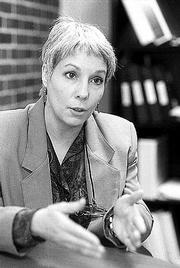 "I'm not either," Marshall said. "But one day soon you'll have a (computer) chip implanted in you to help out with that."
That's the kind of thing Marshall, a professor of medicine and bioethics at KU, gets paid to think about. In fact, she's considered one of the leading bioethicists in the country.
Marshall heads the federal government's National Human Research Protections Advisory Committee, and she is past president of the American Society for Bioethics and Humanities and the American Association for Bioethics.
Marshall's specialty is the ethics of human research. But, as indicated by her computer chip comment, she's also starting to cast her eye in the direction of cybernetic ethics issues involving human control systems, such as the brain, and electronic systems.
"Probably, within the next 50 years, computers will be as intelligent as humans, or more so," Marshall said.
Melding of computer technology and human flesh could have benefits, say, for paralyzed persons. Nightmarish media visions of the concept, notably the character Borg in "Star Trek," make some leery of the idea.
"It is freaky stuff," Marshall acknowledged. "But it isn't too far away."
Back to the here and now, Marshall is dealing with "the best of times and worst of times" when it comes to research ethics.
"It's the best of times because the (National Institutes of Health) budget, Congress has just doubled," she said. Most academic health research is funded by the agency, which is part of the Department of Health and Human Services.
"The worst of times is that we're in yet another crisis of the public's faith in our ability to protect research subjects," she said.
That crisis started in 1999, when an 18-year-old man died in an experiment at the University of Pennsylvania gene therapy program. The university quickly settled a wrongful-death lawsuit in the case. But the incident prompted government and research institutions to examine profitable arrangements some researchers have with private sponsors.
Marshall said the Pennsylvania program didn't pass the "sniff test," in part because the chief researcher stood to financially gain if the treatment being tested was a success.
What's more, she said, the young man who died was comparatively healthy, despite a liver disorder. The types of tests he was undergoing are usually reserved for sick people who have exhausted conventional treatment possibilities.
"How do you manage these financial relationships?" Marshall said. "How do you manage it so there isn't a conflict of interest, so that protecting human subjects is the highest priority? This is an area we're just beginning to explore at the national level."
That may come as a surprise to those who think the centuries-old medical profession would have its ethical rules worked out. In fact, Marshall said, formal efforts to create a set of research ethics didn't really get started until the world found out about horrific experiments Nazi doctors conducted in World War II concentration camps.
"Bioethics is a young field," Marshall said. "It's only about 30 years old. People have been talking about the issues for a long time, but it's a young discipline, and there aren't many of us."
It's so young, in fact, that Marshall studied with many of the field's pioneers, including John Fletcher, the National Institutes of Health's first bioethicist, and Jim Childress, a University of Virginia religious studies professor who wrote a prominent book on the subject.
Marshall's federal panel released a report in April, urging that researchers undergo an accreditation process in an effort to reduce mis-takes."We're not perfect," Marshall said. "People keep making mistakes and violating the rules."
It's important that people not be harmed during research, she said.
"The bigger harm is if we lose the public's faith or trust that ultimately undermines the whole enterprise," she said. "You can't do research without research subjects."
The public, she said, should take an interest in such issues.
"From my perspective, it would be great if more people read and learned about these issues," Marshall said. "It's really the public will that determines health policy.
"We should be teaching these issues and talking about them in elementary school. It affects everybody's lives."
Copyright 2018 The Lawrence Journal-World. All rights reserved. This material may not be published, broadcast, rewritten or redistributed. We strive to uphold our values for every story published.