Judith McCrea, chair of Kansas University's art department, believes this country's art teachers have a hard row to hoe.
"In most cultures, and particularly in the United States, young people have not been taught to see," McCrea said.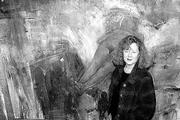 "They look at and identify, but they are not taught about form and relationships (among forms), and they are not aware of the skills they need to make themselves open to visual experiences.
"We do a better job of teaching music and literature, but the visual arts are used more for culturalization."
One way the KU art faculty is trying to enhance students' learning is by offering special topical courses, McCrea said.
"The classes focus on the philosophy, techniques and concepts related to a teacher's specialties," she said.
For example, this fall art professor Robert Brawley will teach a life-drawing class that focuses on the head and hands. John Hachmeister, assistant professor of art, will teach a sculpture class on "modeling and molding" that will allow students to experiment with contemporary approaches to the human figure; and Tanya Hartman, assistant professor of art, will offer a new course that explores common themes and structures in art and literature.
McCrea said the best art teachers are less concerned with interpreting a student's work than helping a student work through the difficult parts of creating his or her art.
"A serious artist ties their work to ideas, so being an artist is tied to being a philosopher," she said. "And because contemporary (ideas and works) are related to political and social issues, it makes art sometimes seem challenging and controversial."
Because the United States has a diverse population, she said, artists and art collectors need to embrace different kinds of artwork.
"This is important for people to think about," she said. "The best collectors want to live with ideas. With visual art, you can't close it like a book, it's not a tape you can shut off."
McCrea said about 160 KU students are fine arts/studio majors. Areas of study include drawing, printmaking, painting, sculpture, installation, performance art, mixed media and new genre, which includes video and digital imaging.
The art faculty numbers 18.
McCrea has several goals she would like to accomplish this year:
Increase international contacts for faculty and students.
Find a warehouse building for graduate student studios, installations and performance art shows.
Begin fund-raising for the art department.
Strengthen the KU art program's ties with the university community, the larger Lawrence community and Haskell Indian Nations University.
Ensure artworks are displayed in and outside of the Art and Design Building.
Work toward establishing more internship opportunities with the community.
Bring in one international artist each year for a residency.
Encourage travel abroad to study art and meet other artists.
"People all over the world have so much in common and they want the same basic things," she said. "Artists have a common type of soul they have a kinship."
Copyright 2018 The Lawrence Journal-World. All rights reserved. This material may not be published, broadcast, rewritten or redistributed. We strive to uphold our values for every story published.