Brian Priestman is entering his 10th and final year at Kansas University. But that doesn't mean he intends to ride on his laurels as director of the KU Symphony Orchestra.
"This year, we will maintain the tradition of being a good university orchestra," he said. "I think it's the best orchestra in the state."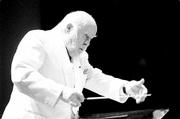 The Symphony Orchestra, with an enrollment of about 100 students each semester, performs several roles. In addition to its public concerts, the musicians provide accompaniment for some KU Opera and University Theatre productions, KU choir concerts and University Dance programs.
Priestman would like to see more integration among the university's disciplines.
"I think this university is a very partitioned university compared to others where I've worked," Priestman said.
The Symphony Orchestra also gives music majors an opportunity to become familiar with the orchestral repertoire and allows graduate students in instrumental conducting a chance to test their baton skills. Priestman said the Symphony Orchestra routinely includes in its performance season student compositions and piano concerto readings for undergraduate and graduate students.
Here is the Kansas University Symphony Orchestra's 2001-2002 lineup:Sept. 9: Undergraduate piano concerto readings, 7:30 p.m., Lied Center.Sept. 28: "International Classical Pops Concert," 7:30 p.m., Lied Center.Nov. 2: "Orchestral Families" concert, 7:30 p.m., Lied Center.Dec. 2: Student compositions and three overtures by Felix Mendelssohn, 2:30 p.m., Lied Center.Dec. 9: Vespers, 2:30 p.m. and 7:30 p.m., Lied Center.Feb. 3: Graduate piano concerto readings, 7:30 p.m., Lied Center.Feb. 21: "The High Romantic Era," featuring Kansas University voice professor Joyce Castle, 7;30 p.m., Lied Center.April 5: "Two Symphonies," featuring the combined KU choirs and soprano and alto soloists yet to be named, 7:30 p.m., Lied Center.May 4-5: "Molpus, Terpsichore, Polymela and the Others," featuring the KU choirs and University Dance Company, 7:30 p.m. May 4 and 2:30 p.m. May 5, Lied Center.
Priestman said over the years he has worked closely with the KU choral program, which he said "underwent a sea change" under the direction of former colleague Simon Carrington. Carrington, former director of choral activities, left KU last spring.
Of all of his accomplishments during his time at KU, Priestman is perhaps most proud of the establishment of a doctorate degree in orchestral conducting.
Priestman said he will miss working with his students after he retires.
"I came here from Brussels and will probably go back to France," he said, referring to his retirement plans. "I'm 74 now, and I have some things in the works. It will be music literature-, archeology-, geography- and history-related. I've never lived by music alone. You ought to be able to do lots of things with your mind. As the skeleton gets weaker, the mind gets stronger."
Copyright 2018 The Lawrence Journal-World. All rights reserved. This material may not be published, broadcast, rewritten or redistributed. We strive to uphold our values for every story published.