For students who are looking for somewhere quiet to study or read, Lawrence has plenty to offer.
Mary Ann Rasnak, director of KU's Student Development Center, said Watson and Anschutz libraries at KU are popular with students because they are quiet and provide an educational atmosphere.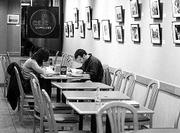 And KU student Jeni Mosier couldn't agree more.
"This is the best place to study," Mosier said while studying last semester with a friend on Watson Library's second floor. "There are not many people here and you've got all the resources you could need."
Zeinab Othman, a student assistant at Watson Library, recommends studying on the library's fourth or second floors. Othman also prefers Watson Library's climate in another way.
"It's warmer than Anschutz Library, where the AC is turned up," she said.
Kyung Seo doesn't seem to mind the temperatures at either library. He said he studies at Watson Library until it closes and then walks over to Anschutz Library, where the third level remains open 24 hours Monday through Friday.
| | | |
| --- | --- | --- |
| | | |
| | If you're tired of looking at the same four walls while reading a book or studying, you might want to check out these tranquil places in Lawrence:Watson Library, Kansas UniversityAnschutz Library, Kansas UniversityLawrence Public Library, 707 Vt.William Moore Reading Room in Smith Hall, Kansas UniversityKansas Union, Kansas UniversityCampanile Hill, Kansas UniversitySouth Park, 1141 Mass.Downtown coffee shops: Borders, 700 N.H.; Bourgeois Pig, 6 E. Ninth St.; Henry's, 11 E. Eighth St.; Java Break, 17 E. Seventh St.; Java Dive, 10 E. Ninth St.; La Prima Tazza, 638 Mass.; Milton's Coffee and Wine, 920 Mass.; and Nova Cyber Cafe, 745 N.H. | |
| | | |
Joe Liller said he likes studying in Anschutz Library because "it is easy to find a quiet corner."
He also recommends the Kansas Union because it offers a more friendly, comfortable atmosphere. More importantly, students can fuel up on their favorite snacks and beverages while studying, Liller said.
While the Kansas Union offers food and comfort, Rasnak said it isn't the best place to study because students are more apt to run into friends and classmates, which leads to more socializing than studying.
She recommends studying in places where there is little distraction.
"I think the Lawrence Public Library is a fabulous facility," she said. "Students are least likely to run into their friends there."
She also recommends William Moore Reading Room in Smith Hall, which is across from the Kansas Union.
"It is calm and peaceful and has a beautiful stained-glass window," she said. "It is also close to the union, so students can always stop and take a break."
Lawrence's downtown coffee shops are popular places to study while fueling up with some caffeine.
Dustin Breault, an employee at Nova Cyber Cafe, said the cafe caters to students with its eight computers and gets "pretty full during the evening hours."
Shannon Baxter, an employee at The Dusty Bookshelf, said she likes to read in the coffee shops.
But when the weather turns warm, Baxter said she would rather study in South Park, which she described as peaceful and quiet.
Melissa Fisher, a reference assistant at Lawrence Public Library, also prefers to study outdoors.
"I like Campanile Hill," she said. "The trees are nice, it's quiet and I like being in the grass."
Copyright 2018 The Lawrence Journal-World. All rights reserved. This material may not be published, broadcast, rewritten or redistributed. We strive to uphold our values for every story published.