Earning an architecture degree isn't all about studying design, reading about Frank Lloyd Wright and spending four-day marathon sessions in the studio.
"What young people really need beyond the architecture program itself is a broad knowledge of things," said John Gaunt, dean of architecture and urban design. "They need communications skills. They need knowledge of cultures other than our own, because they'll be working in a global village.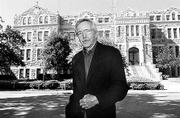 "And they need promotional skills, the skills for self-promotion. There's a high value placed on people who can speak and think on their feet."
That's part of the reason why this year, the drive to expand knowledge and experiences among students in Kansas University's School of Architecture and Urban Design will continue to reach into many of the school's disciplines, programs and locations.
Evolving job market
From Marvin Hall to the Edwards Campus in Overland Park and all the way to Europe, the school's goal is to help prepare students for an increasingly competitive and evolving job market, as well as for the work that follows.
Such preparation can take many forms, Gaunt said, but one thing is clear: No longer does the architecture community turn only on the achievements of the "isolated geniuses" such as Wright.
"It doesn't work that way," he said. "Not in this world."
Teamwork and collaboration are becoming more important, Gaunt said, and that has faculty and staff at the school working on several fronts.
The school's exchange programs continue to expand the architectural and cultural experiences of a handful of students each year, Gaunt said.
KU students may study for a year at universities in Edinburgh, Scotland, and in Dortmund and Stuttgart, Germany. The schools also send students to Lawrence.
The search is on to find more exchange partners in foreign lands, especially in Central America, South America and Asia, Gaunt said. The school already offers summer programs in Italy and France, with stops in Berlin.
"The students who come back from the programs have very clearly matured significantly," Gaunt said. "I'd love to have the opportunity to make this available to all our students."
Closer to home, the school is busy expanding its outreach efforts in the Kansas City area.
One program the Kansas City Design Center is taking on a more prominent role, with the hiring this summer of a full-time director to lead the consortium of architecture programs from KU, Kansas State University and the University of Missouri-Kansas City.
While the consortium is more than a decade old, Gaunt said, it has yet to play a pivotal role in the development of the metro area.
That's about to change.
"This can really connect us more closely with Kansas City," Gaunt said.
The program will match researchers and their students with projects that assess the broad ramifications and opportunities offered by the area's growth, Gaunt said whether it's "smart," "slow," "fast" or "responsible" growth.
"Call it what you will," he said. "We don't do enough, in terms of research academic research with the people we have on our faculty with the abilities to examine these issues in a much broader way.
"Right now developers buy land and property to develop the land and go through the various organizations and agencies they need to for approval. But out of that comes a lot of controversy. Lawrence is a good example of that now."
Gaunt said an abundance of growth and development means there are a lot of opportunities for research at the university level.
"And cities and counties are going to have to invest in that kind of research in the future to ensure that they're growing rationally," he said.
Another program the Urban Design Studio at the KU Medical Center in Kansas City, Kan. allows students to work on plans for entire neighborhoods or business districts. And an architectural management program at the Edwards Campus offers an outlet for young professionals to learn from working architects in the area.
Graduate program
Perhaps the biggest test of teamwork, though, is occurring inside the school itself.
The school's 32 full-time faculty are mulling a proposal to transform their four- and five-year bachelor's degree programs into a comprehensive, six-year combined undergraduate and master's program.
The plan had been expected to come to a vote a year ago, but that effort slowed as officials received input from alumni and others. Gaunt tentatively expects a decision this fall, but isn't counting on it.
"This is a slow-moving thing," Gaunt said. "It's still under consideration. We've kind of slowed it down to a turtle walk. It's a very controversial thing. It's not something you can do overnight.
"We've avoided setting a specific deadline, because we want to have a full-enough dialogue of alumni, students and faculty to get a fuller understanding of the issues."
Having the school operate a graduate-track program would add more time to each student's studies, and therefore add to tuition costs, Gaunt said. But it also would allow students to broaden their education into public relations, economics, business or other fields of study to help bolster their standings in the job market and beyond.
Undergraduate degrees would be awarded, Gaunt said, but the "how and when" of such presentations remain points of discussion.
"Whatever we do, the current bachelor of architecture program will be the core in any case," Gaunt said. "We're not making some huge departure here in terms of the curriculum itself."
Copyright 2018 The Lawrence Journal-World. All rights reserved. This material may not be published, broadcast, rewritten or redistributed. We strive to uphold our values for every story published.