It's all about convergence, the merging of different disciplines within a department so those students leave with a fully rounded overview of their major.
In the old days, it was called "cross-training," but no matter what the name, the administrators at the William Allen White School of Journalism and Communications are determined that their students know everything from how to write a headline to editing audio tapes to looking anchor-perky at 6 a.m.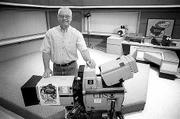 "Convergence. That's a pretty good term," Gary Hawke says.
Hawke is general manager of the student-run television station, KUJH-TV, which broadcasts over Sunflower Broadband on Channel 66. The station became operational when it signed on to the cable outlet, and when not offering student specials or broadcasts, it runs the all-news network. KU is affiliated with CONUS, an alliance of independent news stations that run constant news updates.
The current set-up makes it a win-win proposition for journalism students.
"Lots of traditional students, advertising majors, business communications, news-edit in the print medium, usually had little cross experience. But now they can shoot and edit video and audio and write. It's the whole package," Hawke says.
A shoestring budget
KUJH covers an area from Lawrence to Topeka and is manned mostly by students as part of their class work or by paid interns.
And they do wonders with what is essentially a shoestring budget. While hard numbers were unavailable, Hawke estimates that they spend about $20,000 annually on the station. Low personnel cost, coupled with a good deal from the all-news network, helps keep it solvent. Funds are obtained from a variety of sources and are used to maintain and upgrade the equipment. The school is also looking at ways to increase advertising revenue for the station.
"We get endowment and state money. Benefactors in the form of technical grants pay for the equipment, and we have a great deal with the all-news channel, which is a 24-hour programming network," he says.
While Sunflower Broadband broadcasts the student video feeds, KU is responsible for all programming content. With that in mind, administrators are looking for more ways to fill the airwaves with a variety of products, including a comedy-variety hour.
Through the school year, student news programs break into the all-news broadcasts. KUJH also runs special student-related programs, such as footage of the annual Rock Chalk Revue.
A well-rounded education
Even though students still specialize in a certain field, their new standards will run the gamut from producing print and TV news and advertising to radio and Internet work. Eventually, the program directors would like all participants to work together in one designated newsroom.
"We're looking at a totally converged newsroom. Radio, TV and online. It would be like a war room. Each division would still have autonomy, but there would be a strike team in action to decide how each department would handle breaking stories. The professors seem to like it, and the students really seem to like it," Hawke says.
The school's primary worry is that in focusing attention on several areas, they may inadvertently weaken a student's main area of study.
"About the only negative is that we don't want to dilute their area of the school as they go through the program. We don't want technology to hinder the basics," he says.
So far it hasn't. Students work in the station as part of regular class work, usually under the supervision of a professor. That means many students are getting to try their hands at the on-air anchor chair. And while the styles they learn to report the news may be different, they are finding out that the bottom line is to get, and then tell, an accurate story.
"Sometimes it's a question of getting out of a comfort zone. Professors now understand that it's not much different from one to another. Someone in TV news might have a problem with writing larger pieces, and someone in news-print might have a problem with cranking out pieces faster, but it's really not so difficult," Hawke says.
Despite an overabundance of journalism graduates in the job market, KU's school prides itself on the fact that a high percentage of its graduates go on to work in the industry.
"We work hard on placements, and we'll follow them up for years to come after they leave school. I'd say 15 to 10 percent of my job is counseling, or job placement or hooking up students with jobs," Hawke says.
Copyright 2018 The Lawrence Journal-World. All rights reserved. This material may not be published, broadcast, rewritten or redistributed. We strive to uphold our values for every story published.