It's hard to say what Kansas University will look like by the year 2020.
Just as students probably won't buzz around campus in flying cars, they probably won't do all their learning on the Internet.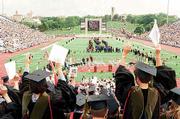 But, KU officials say, nobody knows for sure.
"It's hard for me to know," said Susan Twombly, professor of teaching and leadership. "I teach history of higher education, and looking back it's easier to see trends. My experience has been it's been very difficult for people to predict the future."
Twombly and other KU faculty members who teach higher-education administration say technology will enhance traditional classroom learning in the future not replace it.
"I think people are going to realize it's not all it's cracked up to be in terms of reaching students and engaging them in learning," said Christopher Morphew, assistant professor of teaching and leadership. "Plus, it's expensive."
But technology still will have a place in higher education, Twombly said.
"The capabilities of technology are wonderful," she said. "It's making life easier for students. We can post more things on the Web to enhance instruction. I do think it should be a tool. It just requires a huge investment in resources and personnel to keep it up to date."
Chancellor Robert Hemenway agreed.
"I don't think the Internet will replace teachers," he said. "It'll be more utilizing the Internet to be better teachers and to form better bonds with students."
Hemenway often touts his goal of making KU among the top 25 public universities in the United States by 2010 and among the top 25 of all universities public and private by 2020.
Achieving that will mean boosting research in departments across campus.
Lisa Wolf-Wendel, associate professor of teaching and leadership, said the state will have to decide if it's committed to that goal.
"I don't know if we're at a crossroads yet, but I think we're going to be at a crossroads," she said. "If we're going to be among the top 25 research universities, we need to invest more. We actually need more resources than Emporia (State) or Pittsburg State do. If we don't differentiate, we're all going to be somewhat mediocre at what we do."
No flagship in Kansas?
The issue, she said, is Kansas' history of treating all six state universities run by the Kansas Board of Regents equally.
"We also come from a populist state that says everyone has a right to an education," she said.
"The Legislature and public doesn't treat KU that much different than the other regents institutions. We don't like to say one is the flagship."
Morphew expects changes in university funding during the next 20 years, mainly because of a push to maintain low taxes. Now, 35 to 40 percent of KU's budget comes from state funds. By 2020, the number will decline to 25 to 30 percent, he said.
That will mean more emphasis on private fund-raising, he said, and perhaps a sharp tuition hike.
"KU's going to be looking more like a private university as time goes on," he said. "Kansas is kind of behind the curve on this because there's been so much emphasis on keeping tuition low, which is laudable. But once we've decided we want low tuition, then it's, 'Where is extra income going to come from?'"
Another issue, Provost David Shulenburger said, will be attracting faculty members especially as the funding rift widens between public and private universities.
"It's going to be a challenge," he said. "We still have faculty salaries that put our faculty in about the lowest 20 percent in research faculty in the nation."
Big-business recruiting
Alan Cerveny is preparing for some major changes in how KU lures students to campus.
Cerveny, director of admissions and scholarships, said recruiting "has become a sophisticated big business" that relies more on technology.
Instead of bulk mailings, recruiters now use e-mail to contact prospective students. This eventually will save (KU) money. It's also a timely method of communication," he said.
"When you send an e-mail to a student, they might respond with a question the same day," Cerveny said, "rather than if you send a letter that might get there a week later that may be in a box with a lot of other letters."
The admissions office is also adding features to its Web site, he said.
"My expectation is that within the next five years, admissions offices are going to become ministudios, like a TV network, basically," he said. "We'll be putting together infomercials. The key will be having information out there that's informative and that students want to watch."
The makeup and number of students that come to KU also may change in the future. Wolf-Wendel said more students including those from low-income areas will enter college as the "massification" of higher education continues.
"We take it (education) for granted for K-12, and that may be the case as well, that everybody should be able to go" to college, she said. "College is going to be expected for everyone."
Twombly said the student body likely will become more diverse as time goes on. And Hemenway expects more international students.
"American higher education is one of the most successful commodities and the most successful products we have in the U.S.," he said.
Copyright 2018 The Lawrence Journal-World. All rights reserved. This material may not be published, broadcast, rewritten or redistributed. We strive to uphold our values for every story published.