Imagine thousands of students, their parents, alumni and community residents gathered on Kansas University's campus.
And they're not there to watch the Jayhawks play basketball or football.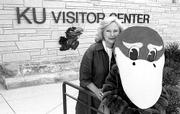 Instead, people will be touring academic buildings, talking with professors and learning about what KU has to offer at the first All University Open House.
Since earlier this year, Margey Frederick, coordinator for KU's Visitor Center, has been working to make the open house happen.
The hours will be from 10 a.m. to 3 p.m. Oct. 6.
"It's a good family event for parents and children to do together, and it's a way to introduce young children to the university and get them thinking about college," she said.
'Front door' of KU
Frederick, who also is associate director of admissions and scholarships, said many universities across the state and country have open houses. In fact, she said Kansas State University has offered an open house for 20 years, and some universities have a whole week filled with activities.
"I just thought with the Visitor Center here it would be good for us to sponsor the event," she said. "We've become the front door to the university, and we need to let people know we're here to help everyone."
Last year, Frederick said 32,000 people came through the center's doors, most were students and their parents on school visits. The center served 25,000 people in 1999, its first year.
So far, the campus-wide response to the open house has been great, Frederick said.
"It's just mushroomed," she said. "Everyone is really excited about it."
During the summer, various departments and organizations submitted their ideas and began planning for the event.
Linda Luckey, assistant to the dean for advancement, said faculty, students, community volunteers and many of KU's 400 groups and organizations will be participating. Luckey is helping organize the event.
"People are getting very creative," she said. "We really want to show off what the university is doing."
Some of the activities include:
sidewalk art at the Helen Foresman Spencer Museum of Art;
Halloween costume sale, dance lessons and face painting by University Theatre;
workshop on preserving personal collections by the Watson Library Preservation Department;
a parade to celebrate Hispanic Heritage Month by the Hispanic American Leadership Organization;
making and giving away stress balloons by Counseling and Psychological Services.
"There's just something for everybody," Frederick said.
Informational booths will be set up throughout campus and along Jayhawk Boulevard, and there will be free giveaways. Shuttle buses will run all day.
Debra Graber, an editor at the Office of University Relations, said the open house also will serve as a recruitment tool. She said mailings are being sent to as many people as possible.
"We're trying to blanket the state and the homes of prospective students," she said.
Frederick said she hopes the event will attract 15,000 visitors from the community and surrounding areas.
"We've never had a chance to come all together," she said. "We need to show people what we're doing.
Copyright 2017 The Lawrence Journal-World. All rights reserved. This material may not be published, broadcast, rewritten or redistributed. We strive to uphold our values for every story published.