At first glance, testing a new idea for preventing auto-train crashes in Chicago doesn't seem to have much to do with Kansas University.
But the $121,000 railroad crossing safety project in the Windy City directed by Stephen Lohmeier, KU assistant professor of electrical engineering and computer science, is a piece of the record $193 million invested in KU research during the past year.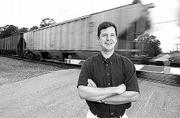 Lohmeier says it's possible his work will show that inexpensive radar can help motorists at crossings.
"It could save lives," he said.
He and other researchers on KU's main campus in Lawrence and at KU Medical Center in Kansas City, Kan., are working to touch lives throughout the world.
"KU's continued success in attracting external funding not only speaks highly of the world-class research being conducted here, it also translates into more job opportunities for the people of Kansas and more projects that ultimately benefit all citizens," said KU Chancellor Robert Hemenway.
He said the research was as fascinating as it was diverse.
Examples:
Gunda Georg, professor of medicinal chemistry, is working to fight cancer with a five-year, $10 million grant.
A research team's $1 million project will rely on satellite images to give farmers information on soil and vegetation conditions.
Glen White, associate professor of human development and family life, has a five-year, $2.5 million grant to help people with disabilities participate fully in society.
Adrian Melott and Hume Feldman, physics and astronomy professors, work under a $329,000 grant to figure out whether the universe will continue to expand or reach a limit and contract in a "Big Crunch."
A record number of National Endowment for the Humanities fellowships to KU will finance research on information technology in legal studies, colonization of North America and female Latina writers of the 1920s and 1930s.
'Simply remarkable'
"The magnitude of research conducted at KU this last year has been simply remarkable," Hemenway said.
Work by the university's scholars injected an estimated $760 million into the Kansas economy, he said, and created nearly 8,000 jobs throughout the state. The U.S. Department of Commerce estimates that for every $1 million in research funding at Kansas universities, 41 jobs are created in the state.
The increase in research funding in 2000-2001 probably will be enough to place KU among the top 50 public research institutions nationally, said Robert Barnhill, president of KU's Center for Research Inc.
KU received $168 million in external research funding in 1999-2000. The $57.3 million in federal science and engineering research contributing to the total was good enough for the National Science Foundation to rank KU 53rd nationally among public universities, he said. That's seven spots better than the previous year's No. 60 ranking.
KU had the second-biggest improvement last year among 500 public and private universities tracked by the foundation. KU moved to 83rd from 93rd overall.
"Our improvement in the national rankings not only speaks highly of the level of research being conducted at the University of Kansas, it also demonstrates that we are moving toward our goal of being among the top 25 public research institutions in the nation," Hemenway said.
Multi-faceted success
Barnhill, who also serves as vice chancellor for research and public service, said improvement in KU research funding was the result of several factors.
Creation of the freestanding Center for Research in 1997 was a good first step, he said. KU also is developing more and larger collaborative projects, including Georg's $10 million grant from the National Institutes of Health linking KU researchers with other Kansas scientists to study cancer.
"Our success has required a concerted effort by many people on both the medical center and Lawrence campuses," Barnhill said. "We have to keep on this path, because it has proven effective."
He said the university's timely focus on life sciences and information technology research had been fortunate.
"KU's strengths correspond to what's nationally significant now," he said.
The Hall Family Foundation, a longtime KU benefactor established by Hallmark Cards pioneer Joyce Hall, recognized the life science angle when making a $42 million donation to the university in June. It will be paid over five years.
Much of the gift $27 million will go toward establishing a new research center at the Med Center. It will host research in a range of life sciences.
Donald Hagen, executive vice chancellor for the Med Center, said the university was working to make the Kansas City metropolitan area a hub of inquiry in the field.
KU researchers are involved in projects for Parkinson's disease, cancer, AIDS, epilepsy, stroke, Alzheimer's disease and development of new drugs. There is great potential for expansion of such research, Hagen said.
"That's where the action is," he said.
The Med Center also has been developing research partnerships with the University of Missouri-Kansas City, Midwest Research Institute, Children's Mercy Hospital and the Stowers Institute for Medical Research.
Biosciences push
On the Lawrence campus, KU Provost David Shulenburger formed a committee in April to develop a strategic plan for strengthening human biosciences research.
"We want to keep KU at the forefront of the life science revolution and we need to create a blueprint to do that," he said. "The importance of developing a strategy for broadening life science research at KU becomes abundantly clear."
Lohmeier and hundreds of his colleagues at KU will continue to help bridge the gap between theory and practice especially if the work translates into opportunities to challenge students.
The railroad-crossing research is an example of a project with research, teaching and public service implications, he said.
It will expand understanding of applications of radar. If successful, it can save lives. And students in KU classrooms can make real-time connections to life's challenges.
"It provides a learning opportunity for several talented and motivated graduate and undergraduate students involving a real system with real hardware and software issues," Lohmeier said.
Copyright 2018 The Lawrence Journal-World. All rights reserved. This material may not be published, broadcast, rewritten or redistributed. We strive to uphold our values for every story published.