If researchers at Kansas University have their way, periodic energy crises in the United States due to the availability and price of fossil fuels like gasoline will one day be a thing of the past.
Collectively, three faculty members and their teams of KU students are on the leading edge of research into alternative fuel sources.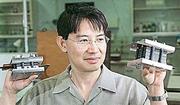 Their work provides a glimpse into the future, revealing a vision of where the world might look to find its energy sources in decades to come.
Louis Burmeister, a longtime professor of mechanical engineering, is working to create a "smart" solar collector that can change its shape in response to conditions, so it can maximize its heating potential. This would be the heart of a system that could power a wide range of engines, replacing the need for traditional fuel sources.
Brian Rock, associate professor of architectural engineering, has worked with teams of students to build a solar-thermal energy system that helps heat a laboratory in Broadcasting Hall on campus.
Solar-powered systems like these produce dramatic energy savings, Rock said, and reduce reliance upon fossil fuels.
Meanwhile, Trung Van Nguyen, associate professor of chemical and petroleum engineering, is working to redefine how cars and homes are powered. He is among those developing a cost-effective way to turn air and hydrogen into heat and electricity.
Nguyen and his students are focusing on vehicles, powered by fuel cells, that could someday travel coast to coast on a single tank of gas.
Important to society
Burmeister's research in solar and concentrating collectors combines existing technology with new ideas.
"If you have a typical solar energy water-heating application, you use what is called a flat-plate collector," he said. "If you want high temperature, you use a concentrating collector that focuses the sunlight onto a small receiver and makes it unusually hot. You cool that receiver with water, and you get unusually hot water."
He's trying to create a "smart" collector that adapts to changing conditions, altering its shape in order to always capture the most solar energy possible.
"This system could be used for producing water at high temperature, or to power almost any engine you've ever seen," he said. "You could generate steam with this, or you could use it to power Stirling Cycle engines an engine that uses air as the working fluid.
"No one's ever done this sort of thing before. It's a marriage of what I call 'smart materials' with the older solar-collection technology."
His research may have long-lasting and global impact.
"If we can foresee fossil fuels becoming expensive or scarce, we need to have some things available to replace at least part of them with," Burmeister said.
Energy-saving system
Rock, meanwhile, is leading a research project funded by the Atlanta-based American Society of Heating, Refrigerating and Air-Conditioning Engineers.
The solar system in Broadcasting Hall has three flat-plate collectors and a water-storage tank that holds about 450 gallons, Rock said. It provides about 60 percent of the heating needs for a laboratory there.
He and a team of KU students, primarily undergraduates, built the solar system. They are now completing a cooling tower subsystem that will serve an air handler in the laboratory.
Rock said doing this will allow students to better understand, and then design, cooling systems for other buildings.
"The vast majority of energy used in buildings is for heating, air conditioning and conditioning ventilation air," he said. "So the proper design for renovation of the building mechanical systems can produce dramatic energy savings."
Wave of future
The fuel cells that Nguyen and his graduate students are working with convert chemical energy, in the form of hydrogen and oxygen, into electrical energy a process that he said is two to three times more efficient than a gasoline-powered combustion engine.
"We only convert about 12 to 15 percent of the energy (in gasoline) into work," Nguyen said. "The rest is put off as waste heat and pollution."
The KU group's fuel cell is 55 to 60 percent efficient, he said.
"I believe this is the energy of the future," Nguyen said. "Petroleum doesn't last forever, and the way we're using it today is very wasteful. When petroleum runs out, we're going to be in trouble."
The only byproducts of his fuel cell are electricity, heat and water. The system has no moving parts, could be maintenance-free for 10 years to 20 years at a time and is pollution-free, he said.
Portable applications for the fuel cell include cell phones, power tools, laptop computers and cars.
"In the next 20 to 25 years, this (fuel cell) industry could be as big as the computer industry, if not bigger," Nguyen said.
Copyright 2018 The Lawrence Journal-World. All rights reserved. This material may not be published, broadcast, rewritten or redistributed. We strive to uphold our values for every story published.