About 150 American Indian students go to Kansas University.
Marigold Linton thinks she can double that number in the next five years.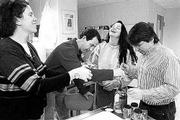 Linton, KU's director of American Indian Outreach, was instrumental in getting three National Institutes of Health grants she and others hope will lead to unprecedented opportunities for American Indian students interested in science.
The grants, worth about $6 million during the next four years, will finance programs aimed at lowering cultural and academic barriers preventing many American Indian students from pursuing science careers.
"The goal is for Lawrence KU and Haskell Indian Nations University to become a 'National American Indian Science Center,'" said Linton, a member of the Cahuilla tribe who grew up on the Morongo Reservation in Southern California.
"Whenever an American Indian thinks 'I want to study science,' we want them to think Haskell, KU and Lawrence," she said. "We think that's very possible."
Expanded partnership
Agreements between the two universities already allow a limited number of Haskell students to take classes at KU and vice versa.
But during the next four years, the National Institutes of Health grants will expand the arrangement to include:
Facility and course enhancements at Haskell;
Courses to prepare American Indian students for biomedical research careers;
Research assistance positions for students;
Assistance for Haskell faculty wanting to complete doctorates.
Because of the grants, Linton said, two Haskell instructors are expected to begin work on their doctoral degrees this year.
"This is a big step for us," said George Godfrey, dean of instruction at Haskell. "It will help us prepare students for many new opportunities."
Haskell now offers four-year degrees in American Indian studies, business administration, teacher education and environmental science.
Under the new program, American Indian students wanting access to a broader array of science courses than those available at Haskell will be able to maintain Haskell affiliation while attending KU classes.
"There are cultural issues, sometimes, that may hold students back (from a career in the sciences), or there may be issues related to the quality of their education on the elementary, junior high or high school level that cause (American Indian) students to feel uncomfortable in a mainstream institution," Godfrey said. "It is our hope that these new programs will create an umbrella, under which they will feel comfortable."
Godfrey, a Citizen Band Potawatomi, has a doctorate in entomology from Cornell University.
If students prefer, the program also will help them pursue studies at universities other than KU.
Undreamed of option
Yana Reid, a Sioux who grew up on the Rosebud Reservation in South Dakota, is a product of the program's earliest overtures.
A sophomore at Haskell, she's a part-time research assistant in the ichthyology (fish) section of the Natural History Museum at KU.
"For a lot of (American Indian) people, academia is intimidating and kind of a mystery. And there are some who feel that science goes against Indian tradition," Reid said. "But for me, having this kind of access has resolved a lot of those issues." Reid said she hopes to attend KU's graduate school to study phylogenetics.
"It's the study of how species are related to one another," she said. "That's the easiest way to explain it. I never thought this would be an option for me before I started working here. Now it is."
Copyright 2018 The Lawrence Journal-World. All rights reserved. This material may not be published, broadcast, rewritten or redistributed. We strive to uphold our values for every story published.