Kansas University's Student Housing/Dining Services department is on a mission.
It aims to be "the exceptional dining experience for global appetites."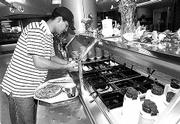 "That means that we try to serve quality food at a reasonable, affordable cost. And not only quality food but quality service, and we try to meet and exceed expectations for the diverse group of people we're serving," said Nona Golledge, assistant director of Dining Services.
It's a big job.
Golledge's department is responsible for serving about 5,200 meals each day to hungry KU students.
KU's Dining Services accommodates a wide customer base all the students living in the university's residence halls are required to purchase a meal plan.
Students living in McCollum, Ellsworth, Hashinger, Oliver or GSP/Corbin halls may choose from three meal packages: 19, 15 or 10 meals per week.Residents of Templin and Lewis halls, Jayhawker Towers, Stouffer Place or Sunflower Apartments may select the five-meal package.According to Nona Golledge, assistant director of Dining Services, costs of meal plan options for the 2001-2002 school year are: $2,092 for the 19-meal-per-week plan; $1,972 for 15 meals per week; $1,852 for any 10 meals per week; and $1,252 for any five meals per weekFor more details about the different dining options, see the Web site at
www.ku.edu./~dshweb/dining.html#meals
.
Meal plans, though, are an option for residents of Jayhawker Towers, Stouffer Place and Sunflower Apartments, which offer kitchenettes or full kitchens.
There are three dining centers in the system: the GSP/Corbin and Oliver Hall facilities; and Ekdahl Dining Commons, known informally as "Mrs. E's."
There's also a facility called E's Express, which serves food-to-go in Hashinger Hall.
Some of the residence halls are equipped with a student kitchen, one per hall, that have a full-size oven, refrigerator and sink. Students can reserve the kitchens at the front desks of the halls.
Students are allowed to have microwaves and mini refrigerators in their dorm rooms, but hot plates or any appliance with open heat coils are discouraged.
New, retail look
Like Golledge, Jay Glatz, director of food services at the Kansas and Burge unions, is on a mission to make sure students have plenty of dining options. He oversees dining facilities in the student unions as well as Wescoe Terrace Snack Bar and three smaller snack bars across campus, called Hawk Stops.
These are not part of the dining services that the Student Housing department runs. Open to the whole KU community, customers pay cash, use a credit card or their KU Debit Card.
In the fall, the Kansas Union dining facility will have a new look. A renovation project will consolidate Union Square and the Hawk's Nest into one facility, named Union Market, Glatz said.
Union Market will feature a Burger King and Pizza Hut.
"We'll also do our 'carvery' concept, which is homestyle, carved meats, homemade mashed potatoes, fried chicken, lasagna comfort foods, the stuff mom makes," he said.
Union Market also will offer the flavors of Asia and Latin America, with wraps, burritos and rice bowls.
"We want to come up with a retail look, like you would see with fast food or a mall," Glatz said. "People eat with their eyes. They want that great look."
Copyright 2018 The Lawrence Journal-World. All rights reserved. This material may not be published, broadcast, rewritten or redistributed. We strive to uphold our values for every story published.