Quincy Roe and Andrew Davison have heard the talk.
Two of Kansas' top cornerbacks Roe is listed as a co-starter along with sophomore Carl Ivey know no one expects their secondary to be any good.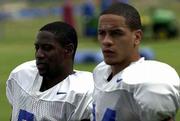 They know people think that they can't cover.
They don't care.
"A lot of people are against us," said Davison, a 5-foot-11, 185-pound senior from Detroit. "No one thinks we're going to do anything back there. People pick us to finish last in the Big 12. They're wrong."
Davison, who received all-Big 12 honorable mention last season, proclaimed himself one of the best cornerbacks in the conference last season and played like one for a part of the season. Then he went against Texas' Roy Williams.
The Longhorns' receiver burned Davison for scores of 38, 65 and 35 yards after the Jayhawk returned an interception 43 yards for a touchdown in the first quarter.
"Andrew can be very good. He really can," KU coach Terry Allen said after practice Friday. "He has his ups and downs, but if he can play consistently the way he's showed himself able to play at times, he can be very, very good."
Roe had a less than spectacular experience against a Texas team, too. He gave four touchdowns to Texas Tech receiver Derek Dorris in a 45-39 loss.
"That Texas Tech game was the worst I've ever played," said Roe, a senior from St. Louis. "I didn't perform anywhere near to my ability. But coach (Tom) Hayes just told me to shake it off."
That's not the only thing Kansas' new defensive coordinator has told Roe and other members of the secondary. Hayes, who was the Washington Redskins' secondary coach from 1995 to 2000, has shown the Jayhawks' defensive backs film of one of the NFL's best cornerbacks.
"We watched a tape of Darrell Green going against Michael Westbrook," Roe said. "That's like a dream. It doesn't get better than that. We watched that and were in awe."
That wasn't the only thing Roe watched on tape this summer. High school friend Jamar Fletcher, who was a running back at the University of Wisconsin, sent him a tape of Wisconsin's game against UCLA a team Kansas will face on Sept. 8 in the Sun Bowl last season.
"I watched that tape all summer long," Roe said. "Jamar told me about their receivers' moves, tendencies and routes things like that."
In addition to the tape from Fletcher, Roe said he spent more time this summer than he has before breaking down film.
"It's much easier to be physically prepared than mentally," he said. "I've found out a lot on my own this summer watching film. It's a way to improve."
If knowing offensive tendencies helps a defensive back, former quarterback Jake Letourneau, who has little experience as a safety, probably has an advantage.
"The things he's going to see from safety is the opposite of what he used to see as a quarterback," Roe said. "But just like the quarterback runs the offense, the safety sees everything on offense and runs the defense."
With Letourneau at safety and Jamarei Bryant, who has been timed at 4.3 seconds in the 40-yard dash, playing free safety, Kansas' secondary emphasizes speed over strength. Neither safety will be mistaken for an imposing Carl Nesmith-like player who might give receivers second thoughts about going over the middle.
"One of the biggest changes is our team speed on defense," Allen said. "Carl was a great hitter, but the reality was that he didn't run real fast. It's a game of speed and speed on defense makes a better football team."
Roe was especially excited about the secondary's speed, but has faith that Letourneau and Bryant will be able to hold their own physically.
"Those guys can cover so much ground," he said. "They run 4.3 and 4.4 out there. They might not hit like Carl, but don't think they can't hit hard."
End of dog days?: After spending the morning in Anschutz Pavilion during the first full day of two-a-days Friday, the Jayhawks spent the afternoon outside on their practice fields.
"Not bad really," Allen said of the first day. "We got a break in the weather. We were able to get two pretty long practices in. They had pretty good recall and I think things went pretty well."
Injury update: Red-shirt freshman defensive tackle Travis Watkins (ankle) and senior wide receiver Termaine Fulton (wrist) both suited Friday, but didn't practice.
Mixed signals: KU's offense went exclusively no-huddle during 11-on-11 drills Friday afternoon, with plays and formations being signaled in from the sideline by assistant coaches.
"It's all the base things, though," Allen said of the offense. "There's a progression of that right now, but it's all what we were doing in the spring."
Copyright 2018 The Lawrence Journal-World. All rights reserved. This material may not be published, broadcast, rewritten or redistributed. We strive to uphold our values for every story published.