For DJ Konsept, music is one of life's defining forces.
"The music you listen to has a huge influence on people's lives," he says during a recent interview. "It kind of shows your frame of mind. It doesn't completely define you, but it gives you a sense of where you're at. So, I guess I'm schizophrenic. If you look at my record collection, you'll be like, 'Who is this guy?'"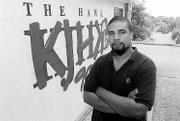 This guy is Edwin Morales, who turns the tables every Friday night (currently from 10 p.m. to midnight, though it's moving to the midnight to 2 a.m. slot for the fall semester) on "One," his self-designed specialty show for KJHK-FM 90.7.
"One" is an amalgamation of myriad styles and genres of beat-heavy music, resulting in a heady concoction that has made Konsept one of the area's most respected wax spinners.
"My whole thing is to shed all beliefs and shed all worries for two hours and just come together as one in a sense, for one show," he explains. "All subcultures of people can come in and enjoy the show. I want to get the hippies listening to it, as well as the frat guys, as well as the hip-hop kids, as well as the ravers. So, the theme is unification in a sense."
Moving on
Morales was brought up in a military family and his background reflects it. Born in Puerto Rico and raised in Texas and Kansas, he eventually graduated from a Manhattan high school and relocated to Lawrence to study child psychology at Kansas University.
Morales got his start in radio as a host for KJ's popular "Breakfast For Beatlovers" show, which gave the DJ an opportunity to hone his craft and connect with a devoted hip-hop audience.
"I had hella fun on it," he enthuses about Beatlovers. "I got to do all different styles of beats and since I'd already DJ'd, I'd do live mixes for an hour and stuff like that."
Though "Beatlovers" and "One" embrace all forms of contemporary beat music, Morales points out the distinction between what he considers the intelligent, Native Tongue hip-hop and the more commercial, G-funk gangsta rap.
"With rap you're talking about where you're at right now, with hip-hop you're talking about where you could be," he explains. "I still listen to some rap but I personally want to further myself. If you get stuck in a certain area, I won't hold it against someone because that's where you're at and that needs to be expressed. But, personally, I want to move on."
Rubbing elbows
Being involved in student radio also has introduced Morales to a whole new world, allowing the DJ to rub elbows with local groovers and shakers and check out the flood of national acts that pour through Lawrence every year. Or at least some of them.
"There's so many shows to go to," Morales laughs, shaking his head. "It's almost too much at times because there's so much to offer. You get sort of desensitized to it after a while."
As for the Lawrence-area music scene, Morales leans toward the conscious end of the hip-hop spectrum, naming Approach, Seven Fold Symphony, Mac Lethal and Archetype as artists who have his full attention and admiration.
"There's so much talent around this area," he says. "Honestly, I feel things are on the brink of blowing up."
Blowing up is certainly an apt description for Lawrence's rave party scene, which continues to create a tremendous underground stir. According to Morales, who regularly DJs raves and house parties, an average event might bring in 400 people, with larger ones drawing as many as 2,500 revelers.
"It's huge," he says. "There's such a collective of that style. There's probably two or three parties going on every weekend nowadays."
As for crossover appeal, don't expect DJ Konsept to move toward commercial radio stations anytime soon.
"You don't have any liberty," he explains. "This is fun and I do it here because I get to express a little bit of what I think, and talk about different areas or cultures that people don't always know about. I think people need to experience that and hopefully they'll add it to their collection of different styles of music."
Copyright 2018 The Lawrence Journal-World. All rights reserved. This material may not be published, broadcast, rewritten or redistributed. We strive to uphold our values for every story published.