The interim dean of Kansas University Libraries isn't shy about her role: She oversees the largest library system in the state and one of the top collections in the nation.
Successful as it is, Julia Rholes doesn't want it to remain stagnant.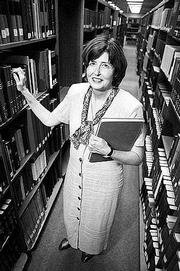 "We like to think we are the center of stability, but libraries are going through a lot of changes, especially digital," she said. "It's kind of an explosion."
Rholes started in January 2001. Prior to that, she was KU's assistant dean for information services and an administrator and librarian at Texas A&M; University in College Station, Tex. She received degrees from Mount Holyoke College, the University of Texas at Austin and Rutgers University.
One of the biggest challenges KU faces is keeping pace with rapidly changing technology, she said.
The university purchases hundreds of online journals every year, Rholes said, and will add e-books this year.
"Nobody knows for sure how long people will want to sit at a computer to read novels online, but we're going to try it out," Rholes said.
In the past year, KU's libraries have focused on remote access. Now, students can do certain types of research through the libraries' system without leaving their dorm room or apartment.
The libraries' home page at www.lib.ku.edu/ allows the community to view online journals, look through the catalog and renew books online.
"Libraries are no longer just print books and journals," she said.
"We still have those. But now, more and more, students can access remotely hundreds of journals from their dorm."
KU owns 3.3 million books the heftiest library collection in the state. Last year, it acquired 35,000 books and 25,000 journals.
KU understands that for some students, reading isn't enough. They need to be able to listen and watch as well, Rholes said.
Library officials had this in mind when they built the Music and Dance Library in the Murphy Hall addition, which opened in 2000.
There, students can be found listening to music with headphones, watching theatrical performances on TV and reading dance journals.
"That library uses the most eclectic formats," Rholes said. "We have a wonderful media center there where our collection of music CDs, cassettes and LPs can be pumped out to different media stations."
While KU relishes in being technologically savvy, it vows to remember its roots.
"We have very strong unique collections," she said. "We need to continue building on that because we are a leader in the field."
The library system includes impressive collections of international and antique books. Last year, a 3,000-year-old papyrus was donated. The university hopes to continue to find ways to build these collections in the coming years, Rholes said.
"Technology is pulling us in a new direction, yet we're still building on our traditional strengths," she said. "Every library is trying to balance this; we want to be strong in all areas."
One of those areas is student services. The libraries are opening writing centers, where students can go for help with assignments. In the past year, the libraries have also added copy machines to aid student research.
For students who like to study in groups, the first floor of most KU libraries houses group study centers.
For those who seek silence for studying solo, Rholes recommends seeking a spot on lower levels.
But don't expect peace and quiet to abound. With growing technology and interaction between students and librarians, talking is a virtue.
"Libraries are no longer that quiet anymore," Rholes said. "The main public service areas are pretty noisy. We don't even try to shush people anymore."
Rholes advises new students to become familiar with the library system as soon as possible.
Many freshman classes take walking tours through the libraries, but students are welcome to take a tour by themselves, too.
Other campus libraries in the system include:
Anschutz
Art & Architecture in the Helen Foresman Spencer Museum of Art
Spahr Engineering in Learned Hall
Gorton Music and Dance in Murphy Hall
and Kenneth Spencer Research.
The system also includes the Regents Center Library at the Edwards Campus.
"Different students go about it different ways," Rholes said. "They are more than welcome to come in and talk one-on-one with our staff about research tips and resources."
Copyright 2018 The Lawrence Journal-World. All rights reserved. This material may not be published, broadcast, rewritten or redistributed. We strive to uphold our values for every story published.