Pat Beard has worked at the Kansas Union for 28 years, and in all that time the changes have kept on coming.
"I haven't seen it cease," said Beard, director of building services for the Kansas and Burge Unions.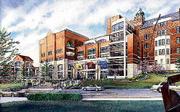 There's been more of the same this summer. Returning students will notice that the candy counter has been replaced with a full-service convenience store. The food court has been remodeled and consolidated, but with more offerings. And a new 24-hour computer lab is open.
That's not the end of it. Starting this fall, a new main entrance will be built on the union's west side and renovations will start at the second-floor bookstore. Other additions include a covered walkway from the union to the parking garage, more space for student leadership offices and a late-night lounge at the Jaybowl.
Between the new convenience store and computer lab, the Kansas Union will be at least partially open 24 hours a day for the first time. David Johnston, the union's marketing director, said that's a deliberate decision.
"We're feeling increased competition for student time and attention, and most of the competition occurs after hours, when we haven't had many offerings," he said.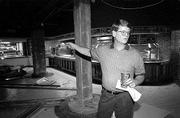 College students, after all, don't ever seem to sleep.
"They eat their pizza for breakfast and drink their coffee at midnight," Johnston said.
Now, Johnston said, "if you want to study late, you can, and you'll be able to get a cup of coffee and a bagel." The new convenience store, the Hawk Shop, serves several purposes.
"It increases the offerings here for longer periods of time," Beard said. "Secondarily, it will be a security access point for the computer lab we just built."
The lab, with 50 computers and other equipment, opened in June. Students who want to use the lab late at night must "swipe in" with their Kansas University identification cards at the Hawk Shop's exterior entrance.
"We're told the lab has people there pretty much 24 hours a day," Beard said.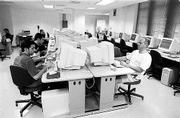 The union lounge will also remain open for computer users to take breaks.
A second helping of choices
The food services are also seeing a big change. Burger King is among the new offerings, as well as new Mexican, Asian and Italian foods, a new salad bar and a coffee bar featuring Starbucks products and smoothies.
"We serve more of a diverse cross-section of the university and conference clientele," said Mark Lohrenz, the union's assistant manager for food services.
"So we're more than a student cafeteria."
Because of that, Beard said, a lot of work needs to be done to remain competitive with food services.
"Market research tells us if you don't do a major renovation every six or seven years, you're missing the boat," he said. "And our sales were down" in recent years.
"We're really looking forward to it," Lohrenz said. "It'll allow us to be more efficient and provide even better service."
The new food court will also look different.
"It will have more of a market feel," Johnston said. "It'll be nice. It'll be more open, much brighter."
The construction this fall is known as "Phase Three." The first phase, in the 1980s, created the original food court.
The second phase, in the early 1990s, saw the renovation of the second-floor bookstore and revamping of the fourth floor, which contains Student Union Activities and other student leadership offices.
Phase Three will cost $5.7 million. Union officials say they'll try to keep the construction out of the way of students, although the Jaybowl will be closed this fall.
The result, Johnston said, should be a homey atmosphere for students.
"We're set up to be the living room of campus," he said. "That includes much more than a couch."
Copyright 2018 The Lawrence Journal-World. All rights reserved. This material may not be published, broadcast, rewritten or redistributed. We strive to uphold our values for every story published.