If Rex Buchanan hadn't seen it, he might not have believed it.
On Jan. 17 in Hutchinson, a seemingly inexplicable natural gas explosion and fire leveled two downtown businesses. The next day, another explosion occurred at a mobile home park three miles away. Two residents died of injuries from the explosions, and hundreds of people were evacuated as gas geysers erupted in the area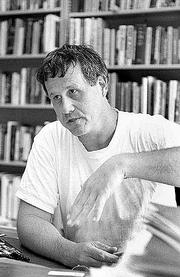 The suspected cause: a leak at the Yaggy underground gas storage facility, about seven miles northwest of Hutchinson. The gas had seeped through the ground between the storage site and town before it made its way to the surface with disastrous results.
"It was like nothing we had ever seen," said Buchanan, associate director of the Kansas Geological Survey, based at Kansas University. "If it hadn't happened, we would've told you it was impossible."
But it was possible. And it was survey scientists who helped save the day, bringing in equipment to locate the seeping gas so workers could drill wells to safely vent it away from populated areas.
Their actions showed how survey scientists put their knowledge to work solving practical concerns across the state.
"That was one of the lessons that came home in the process," Buchanan said.
Clay Bontrager, Hutchinson mayor, said his city knew to quickly ask for the survey's help.
"We really didn't know where else to turn," Bontrager said. "With their knowledge of the ground beneath Hutchinson specifically and Kansas generally we were able to narrow down how it (the gas) was moving. I don't know if we could've done it so quickly without the survey."
The survey has been around since 1889. During that time, scientists have meticulously documented what's beneath the fields of Kansas.
"Less than 24 hours after the initial explosion, we were going through information about the city," Buchanan said. "All this information we've accumulated for 100 years suddenly became invaluable."
The survey sent a team of nearly 20 faculty and students to Hutchinson, equipped with a "seismic reflection" truck. The truck uses a sonarlike technique to bounce sound waves off the town's subsurface. This information was used to track the underground gas paths.
"Eventually, they clearly got a handle on the situation," Buchanan said. "They vented a whole lot of gas."
Bontrager and other officials were grateful for the survey's efforts.
"Kansas Geological Survey was a key asset for us during this very trying time," he said. "It was their exploration that moved us from trying to find the problem to looking for a remedy."
All is not completely solved, however.
"We're almost five months pass that," Buchanan said in June. "And I'm still not sure our understanding of how that gas got in the city of Hutchinson is complete. I know it's not."
That's why the survey and the city are working to fund a fuller documentation of Hutchinson's subsurface, which contains many old salt mines. One geologist has used an electromagnetic process to find well casings, and plugged at least one old well.
"There are an awful lot of old holes in town that nobody knows the location of," Buchanan said.
Stopping explosions isn't the survey's only practical work. Survey scientists and students also work on techniques to find oil and natural gas, and they're looking at ways to help sustain the Ogallala Aquifer in western Kansas as a viable water resource.
It's that kind of hands-on, innovative research that's made KU geology students who work at the survey attractive to energy companies and other firms, officials say. Oil companies fund scholarships for some promising students.
"They actually will be doing research and they'll produce dissertations based on the work," said Rick Miller, an associate scientist at the survey. "So far, everyone who's come through the program in the last 20 years has had a job waiting for them when they leave."
Copyright 2018 The Lawrence Journal-World. All rights reserved. This material may not be published, broadcast, rewritten or redistributed. We strive to uphold our values for every story published.