Mary Anne Jordan's textile works are a bit of a contradiction.
While the works are meant to be displayed and seen, Jordan tries her best to make them invisible.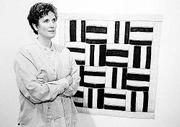 She might use clear thread akin to fishing line to sew fabric pieces together. Her fabric might be thin and neutral in color. The stitching might blend into the color of the fabric.
"Pattern on pattern on pattern. Polka dots, stripes; pink, brown, blue-black, white, yellow-ochre; straight stitch, zigzag; layers of translucent silk, canvas frayed around the edges," she writes in her artist statement.
"Make the invisible visible and then make it invisible again; or, make it as big as possible and then try to hide it. When it is finished: Paint and sew all over it."
Jordan, Kansas University associate professor of design and director of graduate studies for the department of art and design, has been experimenting with fabric since she was a young child.
"I would do piecing, hand-sewing, embroidery and quilting. I never made garments as a kid," she said. "My first work was embroidery jeans and workshirts in the '70s. Before that I did batik with my grandmother."
Jordan earned a bachelor of fine arts degree from the University of Michigan School of Art in Ann Arbor and a master of fine arts in fiber from Cranbrook Academy of Art in Bloomfield Hills, Mich.
She came to KU in 1986, after working as an instructor in the fiber department at the Center for Creative Studies/College of Art and Design in Detroit; a free-lance designer for the Stark Carpet Co. in Troy, Mich.; and a consultant for the Detroit Historical Museum.
She has exhibited her works throughout the United States and in Romania, Japan, Canada, Poland and South America.
Jordan said her work is becoming more minimalistic and is branching in two different but related directions.
"Both are meant to hang on the wall as artwork," she wrote in her artist's statement. "The first series is medium-scale wall hangings (approximately 50-inch square) that employ hand-stitching and embellished surfaces with very little color. For instance, they are mostly natural colored, white, black or a combination of these. The work is minimal in appearance but has many layers and pattern intricacies upon closer inspection."
For this six-work series, Jordan was influenced by the tribal fabrics of Africa and Asia: She uses handwoven textiles and small units stitched together to create a larger work.
She is interested in conveying a sense of private/personal space and universal quiet, akin to a refuge. But she also likes seeing the evidence of humans or history in her works, such as a stain or a frayed edge on the fabric.
"The second series uses many of these same ideas and marking techniques but refers strongly to the quilting tradition," she writes of her eight-work series. "These works are intensely colorful (hand dyed/printed/painted fabrics) and are stitched together much like one might see a traditional quilt, yet they are not traditional."
Although she teaches students how to use a textile design software program, Jordan prefers to create her works using her hands rather than a computer keyboard.
She typically selects unrelated patterns and fabrics and then screenprints, paints and dyes the fabrics, which are then pieced and overlaid together. After the initial construction, she continues to print, paint, appliqund stitch on the surface.
She describes it as a building process that connects and contrasts fabrics, patterns and images.
"I like the imperfections, the edges and the physicality of using my hands to make something," she said. "In my own work, I want it to be more personal conceptually. I like to touch it, and I like the time it takes in the making of it. It's very quiet, almost meditative in a way. When the work is done by hand you can see it, and there's something really valuable about it."
Copyright 2017 The Lawrence Journal-World. All rights reserved. This material may not be published, broadcast, rewritten or redistributed. We strive to uphold our values for every story published.