Each year, the Lawrence Indian Arts Show and Haskell Indian Art Market grow not only in the number of participating artists but also in the number of buyers and viewers.
Organizer Maria Martin has no reason to believe this year will be any different.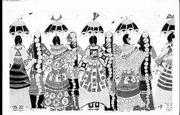 Last year, about 35,000 people from 40 states and six foreign countries signed the guest book at Kansas University's Museum of Anthropology while the Indian Art Show was being displayed.
Likewise, the two-day Indian Art Market at Haskell Indian Nations University drew nearly 35,000 people.
"The reputation is growing and the word-of-mouth among the artists is growing," Martin said.
This year's events include:
13th Annual Lawrence Indian Arts Show, Sept. 8 through Oct. 21, Museum of Anthropology. Admission is $3 for adults, $1 for students, and free for those 5 and younger.
Benefit opening, with art preview and sale, reception, silent auction and awards ceremony, 7:30 p.m.-9:30 p.m. Sept. 6. By reservation only; $35 a person.
"Last year, there were 171 works by 83 artists," she said, adding that the works included painting, jewelry, pottery, beadwork, quillwork and clothing.
Among the artists expected back this year are Craig Goseyun, sculpture; Michael and Stephen McCullough, paintings; Pahponee, pottery; Ben Harjo Jr., painting; George Blackwood, beadwork; Dolores Corcoran, watercolor and mixed media; Tom Fields, photography; and Linda Haukaas, pencil and ink drawings.
Haskell Indian Art Market, with artist demonstrations, 10 a.m.-6 p.m. Sept. 8 and 10 a.m. to 5 p.m. Sept. 9, Haskell Indian Nations University. No admission.
Last year's market featured 165 artists from across the United States. While all media are represented, Martin said jewelry, two-dimensional paintings and pottery seems to sell the best.
A traditional American Indian beadwork workshop, with Lawrence artist George Blackwood, Oct. 11-14, Museum of Anthropology. By reservation; a fee will be charged.
Group show of prints by contemporary American Indian artists from El Cerro Graphics in Albuquerque, N.M., Sept. 7-Oct. 5, Lawrence Arts Center, 200 W. Ninth St. No admission.
American Indian Art exhibit, Sept. 8-Oct. 21, Helen Foresman Spencer Museum of Art, Sept. 8-Oct. 21. No admission charge.
"Healing the Sacred Hoop: Baby Quilts by American Indian Mothers" and "13 Years: Lawrence Indian Arts Show Posters," Sept. 1-30, Lawrence Public Library, 707 Vt. No fee.
Haukaas' "Snagging," a drawing of a group of Sioux women that was shown at last year's Lawrence Indian Arts Show, will be used for the posters and T-shirts advertising this year's events.
Posters are $10, or $25 if signed by the artist. T-shirts are from $18 to $20.
Both are available at the Museum of Anthropology or the Haskell Indian Art Market.
Copyright 2018 The Lawrence Journal-World. All rights reserved. This material may not be published, broadcast, rewritten or redistributed. We strive to uphold our values for every story published.