Starting his seventh year as chancellor of Kansas University, Robert Hemenway knows how quickly the pendulum can swing.
A year ago, KU basked in the glow of positive national attention when Roy Williams decided to stay as men's basketball coach rather than go to North Carolina.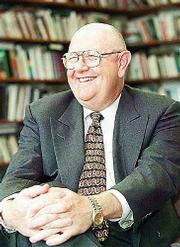 Williams' decision said to the world that KU was a destination, not a stopover on the way to something better. KU alums were high for weeks.
Just months later, some of those alums were in the dumps. KU suffered its fifth straight losing football season and announced it faced deficits in the athletic budget, leading to the elimination of men's tennis and swimming.
As in all major events affecting KU, Hemenway was at the center.
"At any given moment, you can find someone who will complain about something," Hemenway said. "But you serve the taxpayers of Kansas. They have every right to express an opinion. The question I always ask is, 'What's the truth?'"
Here's the truth about KU accomplishments in 2001-2002, according to Hemenway:
Largest enrollment since 1992 at 28,329 students.
Largest freshman enrollment in 13 years at 4,208.
Highest average ACT score of incoming freshmen ever at 24.42. The national average is 21.7.
116 National Merit Scholars; eighth most among public universities.
Five faculty received grants from the National Endowment for the Humanities. No other school in the country reached that total.
"When you look at the things you would normally use to rank a university, KU has had a fantastic year," Hemenway said.
Helping fuel that success was a continued increase in research dollars, from $103 million in fiscal year 1993 to $193 million for fiscal year 2000.
The KU Endowment Association this year will start a fund-raising effort to collect at least $500 million, and last month, the Hall Family Foundation of Kansas City, Mo., announced it would give $42 million during the next five years, the largest gift ever to a Kansas university. The money will go toward the KU Medical Center, Edwards Campus in Overland Park and the main campus in Lawrence.
And Hemenway sees a bright future. The Lawrence campus and Med Center will continue to play key roles in the development of the Kansas City-area life sciences research consortium, he said.
"The life sciences are going to be very important to KU and the greater Kansas City area," Hemenway said. "KU is expected to play a major role."
Not all in the clear
But there are some problems on the horizon. State revenues are drying up, and Hemenway predicts another tough budget round in 2002.
"The state budget is not in good shape," he said.
"It is not generating enough revenue to supply the goods and services that people expect."
Hemenway advocates a tax increase to shore up revenues.
But the 2001 legislative session was a killer for many constituents seeking increases in funding.
Early in the session, higher education faced some cuts. The situation worsened in April when lawmakers faced an unexpected $205 million budget hole.
But Hemenway said Gov. Bill Graves and legislative leaders stepped forward for higher education, fully funding a faculty pay raise and restoring many proposed budget reductions.
"It was an uphill fight all the time. I wouldn't call it a great year, but we had a much better year," than what he had originally thought would happen, Hemenway said.
While the general consensus was that higher education did OK during the session, KU didn't escape criticism.
Some lawmakers slammed KU's lobbying efforts, warning the school not to be as aggressive next year.
Others criticized Hemenway's administration of being elitist by not working hard enough to interact with the public and promote the university to taxpayers footing the bill.
Hemenway said KU does an "extraordinary job" of serving Kansas. He added, however, "KU can and should do a better job of telling people about its value."
To that end, Hemenway hired Janet Murguia, a KU alum and former White House official, as executive vice chancellor to take charge of KU's external relations with the public.
And one group that's not getting the word about KU is the minority population, which Murguia said would be one of her priorities.
Minorities make up about 15 percent of the state's population, but only 9 percent of KU students.
Hemenway said he hopes to work with new student body president Justin Mills, a black student, in creating ways to attract more minorities to KU.
Despite the challenges, Hemenway still sees KU nearing his goal of becoming one of the top 25 universities in the nation.
"We're part-way there, but we still have many ways to improve," he said. "That's what you are always doing at a university you are trying to figure out how you can make the university better every day. If you're standing still, you're really going backward."
And as far as athletics goes, Hemenway an English professor with administrative stints at the universities of Oklahoma and Kentucky says he has a better appreciation for its importance after a turbulent year in KU athletics.
But, he said, athletics still needs to be kept in perspective as subordinate to the academic mission of the university.
By April, KU athletics director Bob Frederick, facing criticism, decided to step down. In June, Hemenway hired Allen Bohl from Fresno State University to take the reins.
"Athletics is the window to KU. But the reality is that the academics determines the success," Hemenway said.
He said of the decision to discontinue men's swimming and tennis: "Those were difficult decisions. We all learned how things could be done better.
"I was disappointed that seemed to be the only solution, but I fully understand the difficulties. I don't believe we should ever get in the situation where we subsidize the athletic budget from the academic budget."
Copyright 2018 The Lawrence Journal-World. All rights reserved. This material may not be published, broadcast, rewritten or redistributed. We strive to uphold our values for every story published.