Incoming freshmen, especially young women, probably have heard the warning about gaining the "Freshman 15."
At college, mom isn't around to fix you a home-cooked dinner so you're in charge of what you eat. And it's all too convenient to call one of the dozen pizza places and have a late-night snack delivered to your hall.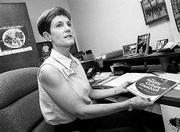 Though some students do gain weight once they start college, it's usually attributed to specific factors, said Ann Chapman, a registered nurse at Kansas University's Watkins Student Health Center. First, she said, KU students are less physically active than they were in high school.
"They get to college and a lot of them don't continue with their athletic endeavors," she said.
Chapman said students can participate in the many fitness programs at Robinson Health and Physical Education Center or sign up for various intramural games like basketball or ultimate Frisbee. She also urged students not to buy a bus pass so they can get at least a little exercise.
"Just walking on campus is better than nothing," she said.
Other factors related to weight gain include drinking more alcohol and eating food with higher fat content.
"More students consume more alcohol than they did in a high school setting, and after a late night of partying, they may eat an additional meal, too," she said.
Fast food doesn't have to be unhealthy no matter what time of the day it is.
Instead of ordering the super, mega-sized meal, Chapman said students should order a children's meal and finish with some fruits and vegetables or eat fresh produce before going out.
Can you be too healthy?
During the past 17 years, Chapman said she's seen an increase in students who are obsessed with eating or have body image issues. She said they're scared to death of gaining weight because they've heard about the "Freshman 15," even if there is no clinical research to prove it.
"By the time girls are in high school, they're very focused on food and know how to count calories," she said. "They get ready to go to college and they get terrified of dorm food."
Chapman said some students get too restrictive on their diets and actually lose weight in college. Instead of limiting themselves, she said students should eat more fruits and vegetables or choose one of the meatless dishes now being served by residence halls' dining services.
Off campus, Chapman said she knows students often consume foods that can be easily prepared, such as Ramen noodles, pre-packaged macaroni and cheese or Hamburger Helper. If students eat those meals, she urged them to only consume half of the package or box and eat some fruit, which consists of 80 percent to 90 percent water.
"By adding some fruit, you won't have the additional calories and gain the weight," she said.
Although students often lean toward pre-packaged foods because of the convenience, Chapman said some students also lack the basic cooking skills for making nutritious meals. She said a good cookbook for students is "The Healthy College Cookbook" by Alexandra Nimetz (Storey Books, $14.95).
The cookbook includes recipes for Mushroom Parmesan, mashed potatoes and Orange French Toast.
"It's everything they need to know," Chapman said. "It's quick, cheap and easy."
Copyright 2018 The Lawrence Journal-World. All rights reserved. This material may not be published, broadcast, rewritten or redistributed. We strive to uphold our values for every story published.