Stephanie Ann Smith's creativity lives on every time someone opens a box of Russell Stover chocolates.
But before she designed boxes for the Kansas City, Mo.-based candy company, her passion was designing theater sets.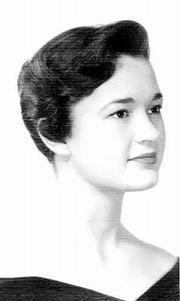 Now, Smith's father, De Lancey A. Smith of Mission Hills, has established a fine arts scholarship at Kansas University in memory of his daughter, a former KU student whose life was cut short by breast cancer in 1967. She was 25.
"I'm sure she's smiling down and is pleased and honored," he said.
De Lancey Smith, who owned several small businesses that sold and distributed appliances, donated $53,600 to the KU Endowment Association for the scholarship. The grant, which will differ each year in size, will be given to a student pursuing a bachelor's degree in theater design. Preference will be given to scene design students starting their junior year.
The first recipient is Emily Elder, a junior in theater design from Wellington.
Stephanie Smith spent two years in the early 1960s at KU. Between her schooling, she took a year off to design store displays at Woolf Brothers, a Kansas City, Mo., clothing store.
She studied scene design, and she designed sets for Rock Chalk Revue.
Her interest in scene design started at Shawnee Mission East High School, where she worked with a production of "Sound of Music."
She also helped with a production of "West Side Story" at Union Station, where she met her future husband, Warren Thomas, who played the lead role.
After her two years at KU, she went to work at Russell Stover as an artist. Some of her artwork is still in use on candy boxes today. She also helped design interiors for new stores.
Smith's father said creativity always was part of her life.
"She designed her own Christmas cards using a silk screen process," De Lancey Smith said. "She created beautiful cards. She also spent a lot of time in association with friends who were employed at the Nelson Gallery. She was well acquainted with the staff there."
She worked at the candy store about five years before being diagnosed with breast cancer in 1966. Eight months later, she died.
"We were a strong, family-oriented family," her father said. "She was adored by all our family members and her friends. I was at a point I was making some estate changes, and it occurred to me this was something I'd like to do to honor her."
Copyright 2018 The Lawrence Journal-World. All rights reserved. This material may not be published, broadcast, rewritten or redistributed. We strive to uphold our values for every story published.