Getting connected on a campus of 28,000 students can be a challenge.
Actually, it can be downright intimidating.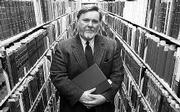 Orientation assistants at Kansas University say the key is getting to know the people around you and work out from there.
"Get to know as many people as you can old people, young people," said sophomore Stephanie Bohling. "Make connections. Even if you think at the time they're not special, they might be the best person for getting a good job or a good car or something. Not necessarily to use people, but to expand your network."
Here's a list of 10 people new students should get to know and befriend at KU, as recommended by current and former orientation assistants.
1. Your academic adviser
The Freshman-Sophomore Advising Center, 126 Strong Hall, assigns advisers to help students understand general education and major requirements, develop class schedules and suggest professors, internships and community service opportunities.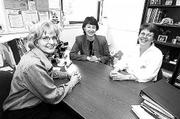 "They're the people that will help determine your class schedule for the next two years and potentially beyond that if you want them to," said Justin Nichols, a May graduate. "The earlier you get to know them, the sooner they get to know your personality, and your classes can fit your personality."
2. Your professors and graduate teaching assistants
"These people are actually people," said May graduate Brian Cooper. "These people will take time to meet with you if you want."
"Don't be afraid to go see your GTAs (graduate teaching assistants)," said Trevor Loney, another May graduate. "Some people are wary to see GTAs because they're our age but they're a lot smarter than us. And most freshmen will come into contact with GTAs."
3. An upperclassman with your major
"If they knew somebody that was older in your same interest or major they can help you out and show the way, like what professors to take," said senior Matt Bertholf. "If you didn't know anyone, probably the best way would be go to your adviser and they'd pair you up with someone."
4. Your roommate
"Get to know your roommate," senior Eric Snider said. "That's a source of a lot of frustration. It's good to know whose pet peeves are what. I'd say maybe set a date, ... maybe two or three weeks after you start living together, to go out to dinner to work out a contract."
5. Residence hall workers
"They're a wealth of information," junior Erin Blocher said. "It's good to be nice to them."
6. Assistants in your department's office
"Those are some invaluable people to know," Loney said. "It's good to be nice and smile at those people. If you need to get a paper in or get hold of a professor, they're the ones to ask."
7. Librarians
"Get to know the librarians, especially those in the Spencer Research Library," Loney said. "They're the most helpful and most friendly people. You'll be amazed if you're doing a research paper, the realm of knowledge they have. They'll brainstorm with you and take you through the card catalog."
8. Student government members
If you want to promote a cause or organization and need funding, you'll want to befriend someone in Student Senate.
"They do a lot of things that affect the student body that most people don't think about, like lighting on campus or the new recreation center," said senior Leah Masonbrink.
9. Bus drivers
"They have control of your life when you don't have a car," Bohling said.
10. University Daily Kansan Readers' Representatives
The readers' representatives work with students to find out what they do and don't like about the paper. This fall's contacts, Jonathan Ng and Jenni Valadez, can be reached at 864-4810. "They need more student voice in the Kansan," Masonbrink said.
Copyright 2018 The Lawrence Journal-World. All rights reserved. This material may not be published, broadcast, rewritten or redistributed. We strive to uphold our values for every story published.