Kansas University's fraternities and sororities are trying to change their image in the new millennium.
They are downplaying the party-hardy perception and emphasizing their service in the community.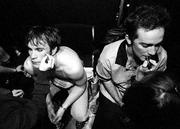 Part of it may be the changing times. But as Kelly Jo Karnes, assistant director for greek programs at KU, said, it may be fiscal sensibility.
Some of the fraternities are sinking lots of money into renovating their houses, she said.
"A lot of them are moving away from having social events in their chapter houses," she said.
"If you're going to spend millions of dollars, you don't want to ruin that on one party."
Chris Mandernach, president of the Interfraternity Council and a member of Theta Chi, said many of the negative feelings about fraternities are undeserved.
"Something bad might happen at something that is 95 percent not greek and a greek name might come up,'' and the greek system gets blamed, he said.
Hard partying or not, greek life has been a part of KU for more than 125 years.
Currently, about 3,800 KU students are members of greek chapters. That number has been holding steady for the past couple of years, Karnes said.
There are 45 greek organizations, including 21 fraternities and one colony, which belong to the Interfraternity Council; 13 sororities belonging to the Panhellenic Assn.; and five traditionally minority fraternities and five traditionally minority sororities, which belong to the National Pan-Hellenic Coun-cil.
All sororities are alcohol-free, as are three fraternities. As for hazing, KU officials have cracked down in recent years on fraternities and have stated they want to eliminate it.
The greek community emphasizes its service to the community in many ways.
Each chapter sponsors an annual charity event and members also participate in communitywide service projects. Greek volunteers help teachers in Lawrence elementary school classrooms through the Adopt-a-School program.
In addition, there are blood drives, walk-a-thons and the annual Rock Chalk Revue, which raises money for the Douglas County United Way.
Kristin Davis, who graduated in May, highly recommends the greek life.
Davis, a St. Louis native, said that when she arrived on campus as a freshman, she didn't know anyone.
She joined Alpha Chi Omega sorority and found "an immediate family."
She said one of the best things about living in the sorority house, which she did for two years, was that she was more aware of opportunities to volunteer in the community.
Of the stereotypes associated with greek life, she said, they don't bother her because "I know they aren't true."
Mandernach, head of the fraternity council, said fraternities enhance structure in students' lives and help them do better in school.
Also, he said, fraternity and sorority members tend to have a greater awareness of volunteer opportunities.
Copyright 2018 The Lawrence Journal-World. All rights reserved. This material may not be published, broadcast, rewritten or redistributed. We strive to uphold our values for every story published.