College students are a transient population after four or five years spent in a community, they move on. That means some congregations make outreach to students a lower priority than some other ministries.
"They don't have much money (to give to a church), and the investment you make in them eventually leaves town," said the Rev. Leo Barbee, pastor of Victory Bible Church, 1942 Mass.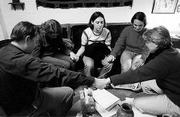 But there are Lawrence spiritual communities that seek out Kansas University students, develop programs for them and try to plug them into their congregations.
While they're away at college, KU students have many choices for worship and finding a spiritual home.
Victory Bible Church makes an effort to attract KU students by offering a number of ministries they can get involved in, Barbee said.
"I have a ministry to students called Harambee; it's a Bible study, fellowship and discipling type of ministry. And we try to get kids involved in LINK, Mother To Mother (of Douglas County), Hannah's House (Foundation) and the O'Connell Youth Ranch," he said.
Barbee also is chaplain of the KU football team, so a number of athletes who know him come to Victory Bible to worship.
"We welcome students, and we let them know we welcome them, not just as spectators, but as participators," Barbee said.
Outreach efforts
Victory Bible isn't the only spiritual community in town that reaches out to college students.
Grace Evangelical Pres-byterian Church, 3312 Calvin Drive, also makes special efforts to serve the needs of KU students looking for a congregation.
Kelly Liebengood, a pastoral intern at Grace Presbyterian, works with students to get them connected to the church.
"I get to know some of the campus ministry directors, find out how we can help them and get their students plugged into church," Liebengood said.
Grace Presbyterian attracts students because its pastor, the Rev. William Vogler, tries to relate the Bible to their everyday lives, Liebengood said.
And at the start of each semester, Grace Presbyterian sponsors a luncheon for KU students during which they're introduced to staff members and told about opportunities to get involved whether in the nursery, Bible study groups or special dinners shared every other week.
During winter break last year, the church took a group of 25 KU students to a missions conference in Chicago.
"We just feel a responsibility. We live in a university town, and a large percentage of Lawrence is made up of students. We want to reach out to them and make them feel welcome," Liebengood said. "We very much love having college students here. Part of my job is to help make that happen."
Not all KU students are Christian, nor are churches the only congregations in Lawrence.
KU Hillel Foundation, 940 Miss. the university's central organization for Jewish students serves Lawrence with opportunities for worship and volunteering.
The Lawrence Jewish Community Center, 917 Highland Drive, serves Jews of all backgrounds and denominations, said Susan Shafer-Landau, KU Hillel's executive director.
She works closely with the synagogue, organizing some jointly sponsored, community programs with KU Hillel.
"The LJCC welcomes the participation of students as teachers and youth group directors. We've had students serve as cantors and help to lead services," she said.
"It's a small (Jewish) community, and the LJCC's run by community members. So there are plenty of opportunities for KU students to get involved."
Tips on connecting
Local pastors offered these tips on how students can locate a congregation that's right for them:
Liebengood suggested that new students start early in college to find a place to worship. Make it a priority, and don't keep putting it off.
Otherwise, you'll never get around to it.
"Second, think about what you're looking for in a church, what you value. I would encourage students to find a pastor preaching from the Bible, and a community that is welcoming and will foster spiritual growth," he said.
One of the most important things to look for in a prospective congregation is a welcoming, friendly atmosphere, according to Barbee.
"They should show you they are really glad to have you there," he said.
Meet with the spiritual leaders, ask them questions and get to know them, Barbee added.
And don't make a snap decision about whether a congregation fits your needs, Liebengood said.
"Don't just come and totally judge the church on one week. Give it time to get to know people and hear the fullness of what they're saying."
Copyright 2018 The Lawrence Journal-World. All rights reserved. This material may not be published, broadcast, rewritten or redistributed. We strive to uphold our values for every story published.