New in town? Looking for some live tunes? Well, in case you haven't already heard, Lawrence boasts one of the best music scenes in the country, mixing great local acts with the country's best-known musicians.
The downtown clubs are regularly packed with everything from punk rock to hip-hop, offering something for every imaginable musical taste.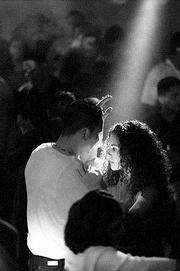 The Bottleneck, 737 N.H., is ground zero for rock, alternative and metal, featuring some of the hottest acts from around the country in a classic bar setting. Big names like Frank Black, Burning Spear, Kottonmouth Kings and Sunny Day Real Estate have stopped into The Bottleneck on recent tours.
Every Monday the stage is turned over to aspiring area groups. You can catch some of Lawrence's most popular bands The Get Up Kids, The Anniversary, Ultimate Fakebook, Origin and dozens of others there on a regular basis, playing, hanging out or both.
Just down the street from The Bottleneck is Tremors, 729 N.H., featuring local DJs spinning hot rap for the rump-shaking masses. Tremors also features local hip-hop groups on Saturday nights, giving some of the area's best underground talent a freestyle forum. Tremors likes it's hip-hop raw and rugged so come prepared for earthshaking beats and trunks full of crunk and don't forget your dancing shoes.
An old favorite
The graffitti that covers the walls of Liberty Hall's basement "backstage" says it all: Members of The Police, R.E.M. and Counting Crows have all scrawled their names, leaving a small trace of rock history. The hall, 644 Mass., offers a regular calender of national touring talent in the splendor of an ornamental and historic theater. Henry Rollins did spoken word there a while back and artists like Deftones, Linkin Park, moe. and Dar Williams have all made recent appearances.
Here are some downtown venues you might want to check out:The Bottleneck, 737 N.H., 841-5483.Brown Bear Brewing Co., 729 Mass., 331-4338.Coco Loco, 943 Mass., 842-1414.The Granada, 1020 Mass., 842-1390.The Jazzhaus, 926 1/2 Mass., 749-3320.Liberty Hall, 644 Mass., 749-1972.Raoul's Velvet Room, 815 N.H., 842-8200.Replay Lounge, 946 Mass., 749-7676.Tremors, 729 N.H., 838-4623.
The Replay Lounge, 946 Mass., is an institution among the nosering, pierced-whatever set for good reason. Well-known locals like Proudentall and Jumbo's Killcrane call The Replay home, and the club is staunchly committed to hosting the hundreds of small punk bands that pass through Lawrence every year.
In the warm months, The Replay's outdoor patio provides welcome relief from the heat, and the classic video and pinball machines inside are as entertaining as the eclectic selection of tunes blasting out of the jukebox. The bartenders are never stingy with the drinks and despite its reputation you don't have to be pierced to be a patron.
The Jazzhaus, 926 1/2 Mass., is an intimate upstairs club featuring just about every conceivable genre of music, from blues and jazz to alternative. Featuring a garden variety of area acts funkmeisters The Band That Saved The World and alt-rock kings Sturgeon Mill are regulars and touring artists from around the globe, The Jazzhaus usually has an interesting band up its sleeve, often one that's slightly off the beaten path.
One of the city's larger nightspots, The Granada, 1020 Mass., is Lawrence's own dance central, where the undulating undergrads gather for regular groovefests. Offering everything from contemporary hits to retro '80s music, The Granada packs huge crowds onto its giant dance floor. But, there's a lot more to the venue than just dancing. The Granada also features a number of cutting-edge live acts, bringing in crowd favorites like Digital Underground, The Orb and LTJ Bukem. A couple of years ago Marilyn Manson began his national tour here and The Smashing Pumpkins played a "secret" Granada gig in 2000.
New face on the block
Abe & Jake's Landing, 8 E. Sixth St., is the newest member of the downtown music family and a welcome one at that. With enough space to accommodate a huge crowd and the know-how to lure them in Abe & Jake's has quickly built a reputation for itself in town. Bringing in legends like Matt "Guitar" Murphy and David Allen Coe hasn't hurt either, though the venue's commitment to local music also is unimpeachable and you're likely to find area acts wowing the masses on a regular basis.
If you're looking for a slightly different musical twist, there's no place like Coco Loco, 943 Mass., which crams the town's most flamboyant dancers onto its tiny floor every weekend. Lawrence's fiery 10-piece Son Venezeula is the house band, whipping up an infectious blend of meringue, salsa and Afro-Cuban music on nights when upbeat area acts like Brent Berry and The Secondhands aren't lighting up the stage.
More than a mere club, Loco serves up a party like no other, and you'll be pressed to find a more raucous night on the town. Work on those dance moves, be prepared to wait in line to get inside, and dress to impress. A good time is all but guaranteed.
Copyright 2018 The Lawrence Journal-World. All rights reserved. This material may not be published, broadcast, rewritten or redistributed. We strive to uphold our values for every story published.