Sure, living in a dorm isn't the best gig in the world.
The rooms are small, there's not much privacy and the food can be a little tiresome.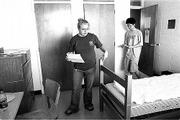 But dorm life isn't all bad, either. In fact, it has some distinct advantages.
For starters, there's the location factor. You can walk to class from the residence halls. You don't have to have a car. You don't have to cook.
And because you don't have a kitchen, you don't have to deal with cockroaches.
You're part of a diverse community. By semester's end, you're going to know a lot more people than you would if you lived in an apartment with your friend from high school.
"The privacy you give up living in a residence hall is offset by meeting all kinds of people," said Diana Robertson, head of residence life within Kansas University's Student Housing Department.
Another advantage: If you live in a dorm, your resident assistant also known as the "RA" will help you sort through the gives and takes that come with living with a stranger.
"We try to get roommates to come up with a contract that says what hour of night the lights, the TV, the music or guests need to be out, and which part of the room is for study and which is for recreation things like that," Robertson said.
"If they can't do it themselves, we'll work with them," she said. "Communication is critical."
Without exception, every student at KU makes mistakes. But the well-advised tend to have fewer foul-ups than the ill-advised.
The peacemakers
That's where the RAs come in.
"If somebody has a question, we can usually answer it very few questions go unanswered," said Dale Ziegler, an RA at Ellsworth Hall.
Most resident concerns, Zielger said, fall in three categories:
Homesickness.
"Did I choose the right major?"
"I'm not getting along with my roommate."
Ziegler, a Lenexa junior majoring in broadcast journalism, said he advises new students to simply be themselves.
"If you try to act like someone you're not, you might make some friends, but they won't be your true friends," he said. "But if you're true to yourself, you'll find the friends who are right for you."
Get out, get involved
Other advice from Ziegler:
"If there's a club or something going on on campus or in the residence hall, get involved," he said. "It's a good way to meet people. It beats sitting around playing video games.
Learn to stick to a budget. "There are a lot of temptations out there that'll suck your money away from you."
Sleep is your friend, spend time with him. "No matter what else you do, you have to give yourself some time to sleep."
Heather Young is an RA at Hashinger Hall. She, too, has some tips:
"I don't recommend dating someone who lives on the same floor you do," she said. "It almost never works, you end up seeing each other all the time. It gets to be too much."
"When I was in high school, I didn't have to study very much to make high honor roll. But in college, I do. You really have to study."
"When you go to class, I recommend sitting in the front row, so your professor can put a name to your face. I sit in the front row of all my classes and I pretty much know all of my professors."
"Learn to respect other people. Just because you don't feel like going to bed until 2 or 3 o'clock in the morning doesn't mean someone else won't be trying to sleep at 10."
"Don't go home more than once a month."
Copyright 2018 The Lawrence Journal-World. All rights reserved. This material may not be published, broadcast, rewritten or redistributed. We strive to uphold our values for every story published.