Strauder Patton could have gone to a number of universities to study civil engineering.
For a number of reasons, he chose Kansas University.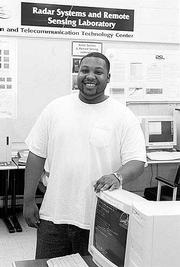 At the top of the list were the Diversity Programs for the KU School of Engineering and all that they offered.
"KU had a good minority program and a good engineering program," said Patton, who is black and received his master's degree in civil engineering from KU last spring. "They got us involved and helped us in many different ways, such as resume building and career learning."
Patton is now a structural engineer with Burns and McDonnell Engineers, Architects and Consultants in Kansas City, Mo.
The Diversity Programs celebrated 30 years of existence last April. They trace their roots to the Student Council for Recruiting, Motivating and Educating Black Engineers, which was founded by KU engineering students and concerned faculty.
The program was started in the early 1970s because many black students were struggling academically, said Florence Boldridge, the program's director since the early 1980s.
"A large part of that was because of their high school training," Boldridge said. "They didn't have the background necessary for keeping up with the other students."
Many black students had difficulty paying for their education and worked two or three jobs on the side, Boldridge said. Part-time jobs only complicated their study efforts.
"That just doesn't work in the School of Engineering," Boldridge said.
The Minority Programs were designed to offer guidance and scholarships to the school's minority students so they could devote time to study instead of work.
Boldridge has worked to expand the programs to include more students of diverse backgrounds.
In 1987, the school established a student chapter of the Society of Hispanic Professional Engineers. In 1990, student chapters of the American Indian Science and Engineering Society and the Society of Women Engineers were added.
Unlike other KU schools, students enter the School of Engineering as freshmen and typically take five years to complete a degree.
The Diversity Programs attempt to provide scholarship money to cover four years. The scholarship remains in effect during those years as long as the student meets academic criteria. Over three decades the Diversity Programs have changed with the students they serve, Boldridge said.
"What I've seen is the caliber of students has substantially increased," she said. "It is far different than the early 1980s when I came here. The students are more sophisticated."
During the 2000-2001 academic year there were 87 minority students in the School of Engineering out of a total of about 1,500. Of that, 44 were black, 35 Hispanic and eight American Indian.
School of Engineering alumni who have been helped by the Diversity Programs are taking steps to see that they continue. Alumnus Mike Shinn and his wife, Joyce, of Shaker Heights, Ohio, have established a $50,000 scholarship fund. The gift is being matched by General Electric Co., the firm Shinn retired from in 1998.
Today the Diversity Programs work to support students mentally and emotionally as well as financially, Boldridge said.
Ledell Young, 23, a Topeka senior studying electrical engineering, takes part in conventions and seminars offered by the National Society of Black Engineers. The organization has taught him about professionalism and given him a chance to attend the group's career fairs.
"You get a chance to meet alumni from other schools and hear what they have to say," Young said.
Copyright 2018 The Lawrence Journal-World. All rights reserved. This material may not be published, broadcast, rewritten or redistributed. We strive to uphold our values for every story published.