Every object in this world, except natural materials, has been designed by a human.
A Sonic cup. A flower vase. A chair. A shoe. Someone a designer had to figure out what looked most pleasing and functional.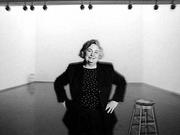 Liz Kowalchuk, associate professor of design at Kansas University, said most people don't understand the importance of what is being taught in design programs, or even what the programs encompass.
The KU design department includes industrial design, for objects and products that are manufactured; interior design, such as lighting structures and interior architecture; visual communications, such as typography, layout and images that are used to present ideas; art education, which includes classroom instruction and museum curatorial education; crafts, such as ceramics, textiles and metals; basic studies, where all art and design students start and later choose their majors; and photography/digital technology/video production.
"We have no degree in photography, but all majors in design are required to take photography," said Kowalchuk, associate chair of the design department.
The department has 553 undergraduate majors and about 30 graduate students. About a dozen of the graduate students are in the area of crafts, another 20 in art education. The department has about 40 faculty members.
For the past 19 years, the Hallmark Symposium has brought artists to the campus to give lectures and work with students. Here is the lineup for this fall:Sept. 10: Pat Flynn, metalsmith.Sept. 24: Paul Sahre, graphic design and art education.Oct. 8: Christopher Budd, interior design and architecture.Oct. 22: Dorothy Dunn, curator of education at the Cooper-Hewitt National Design Museum, Smithsonian Institution.Nov. 5: Anne Wilson, textiles and art professor at the School of Art Institute of Chicago.Nov. 19: Gus Kayafas, photography, exhibition design and director of Palm Press Inc.
"We've had 100 percent placement over the past three years for our art education graduates, and they get the plum jobs," she said. "Fifty percent of them have jobs before they finish. There's a teacher shortage, and KU has a good reputation.
"We've had undergraduate industrial designers going out and making $50,000 a year. In the craft area, undergraduates have to find their own niche. Many go into graduate schools and seek careers as visual artists or teachers."
Kowalchuk said design students are encouraged to study abroad during their university years. Examples of the study-abroad opportunities include a trip by design students in December to Nepal to work on a design project; an ongoing study program at Straffordshire University in Stoke-On-Trent, England; and a collaborative project with a design school in Trier, Germany.
"We emphasize international travel and study," she said. "We see it as important to their education. We rely on the (KU) study-abroad program, but we also initiate programs on our own."
Copyright 2018 The Lawrence Journal-World. All rights reserved. This material may not be published, broadcast, rewritten or redistributed. We strive to uphold our values for every story published.