If you're looking for someone to take care of your child, Betty Peterson can point you in the right direction but she can't tell you who to choose.
Peterson is coordinator for Kansas University's Dependent Care Referral Agency, a clearinghouse for information on child-care services in Douglas County.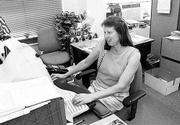 "They want recommendations, which we can't give," she said. "They're always saying, 'I don't know anyone. I just moved into town, and I'm very nervous and leery.'"
The service has been around since 1990, but Peterson said few people are aware of it. Much of the agency's publicity, she said, is through word of mouth.
Peterson compiles information on about half of the 260 child-care providers in Douglas County. Some providers choose not to have their information listed because they don't need to they already have their spots filled and have waiting lists.
When a parent calls looking for child care, Peterson can send the parent a tailor-made list of providers with openings. The information, which is updated every four to six weeks, includes fees, licensing status, a list of references and whether they accept SRS contracts.
The referral agency is part of KU's Human Resources Department and was designed to help university students and employees. But because it is licensed through the Kansas Department of Health and Environment, the service is free and available to the public.
Between 400 and 600 parents call requesting information each year. The biggest demand is for infant care.
"When (children) get older, they have more options," Peterson said. "Infants take a lot of time. There are fewer openings."
The agency is one of two such referral services in the county. The other is the Douglas County Child Development Assn.
Peterson also compiles a list of activities and resources for children that is updated each year and distributed to agencies and parents. And several times a year, she organizes training for child-care providers on such topics as discipline, safety and nutrition.
The KU agency also occasionally receives phone calls an average of 10 per year from people wanting information on care for the elderly. Peterson usually refers them to other agencies such as Douglas County Senior Services.
To reach the KU Dependent Care Referral Agency, call 864-4648.
Copyright 2018 The Lawrence Journal-World. All rights reserved. This material may not be published, broadcast, rewritten or redistributed. We strive to uphold our values for every story published.