You would expect creativity to be the foundation of Kansas University's School of Fine Arts, and it is.
But communication is nearly as vital to students and faculty in the college, according to Toni-Marie Montgomery, the school's dean. Since taking her post a year ago, Montgomery has fostered communication among various departments under the fine arts umbrella as well as increased contact with the community.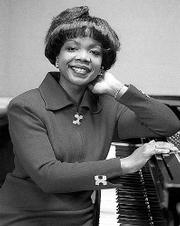 "Making those connections is important because artists are entrepreneurs," she said.
To foster relationships among art, design, dance and performance students and faculty, Montgomery created a lunch meeting. Students and staff have the opportunity to deliver performances, which are open to the public and geared to other art students.
The stipulation is that the performer must talk about the piece.
"The goal is to help our students be spokespeople for the arts," Montgomery said. "It's important that our students be able to get in front of a group and talk about their work. It's a practical life skill."
The lunch performances, held from 12:30 p.m. to 1 p.m. Wednesdays in Alderson Auditorium at the Kansas Union, are also designed to encourage fine arts students to support and work with one another.
"This is just a teaser," Montgomery said. "Then they'll be more inclined to go to each other's events."
Aimee Curnutt, an art history major, said the sense of community within the school makes for a positive work environment.
"I don't want to stereotype fine arts students, but they are so much fun," she said. "I really enjoy my other classmates; they tend to be friendly. Most of the teachers promote students to get to know each other and that helps your artwork to be better."
Faculty members are the crux of the school, Montgomery said. That's why one of her goals has been to support the staff.
In the past year, she has worked to increase fine arts faculty salaries. Also, teachers can attend eight to 10 "getting to know you" breakfasts with the dean to exchange ideas.
Operating under the theory that top professors lure top students, Montgomery hired seven faculty members who will start this semester. She plans to fill three more jobs this school year.
"That's why students come here, because of the faculty and the facilities," Montgomery said. "We need to continue that upward swing."
The key to hiring quality faculty is funding, which is why Montgomery hopes to raise money this year for endowed professorships.
She also has her sights set on naming the Murphy Hall addition, which is currently under construction.
Many universities have collected significant sums for naming rights, and Montgomery is shooting for $20 million. The interest from this endowment could create scholarships and support faculty projects.
Though the school is nationally recognized for excellent students, faculty and facilities Montgomery places KU among the top 10 U.S. fine arts schools that's not quite good enough for the dean.
"I want us to be in the top five, and I think we're very close," she said. "I want KU to be seen as a leader in the arts."
Curnutt said fine arts students shouldn't be intimidated by the school's stellar reputation.
"Don't worry if your work is not the best, because if you are trying, you will learn as you go," she said. "I didn't do a lot of drawing before taking an art class, but it turned out to be very fun."
Montgomery encourages students to avoid limiting themselves. At a university the size of KU, she said, they have the opportunity to dabble in many artistic venues.
But she also warns against viewing the fine arts school as an escape from rigorous academics.
"Yes, it can be fun, but it's hard work," Montgomery said. "When students take the exploratory classes, they realize it's hard and they're not going to be painting all day."
While the school aims to refine students' natural talents, it emphasizes making those skills marketable.
Getting a well-rounded education, including at least one technology course geared toward a student's major, is mandatory.
"We're training students in the arts," Montgomery said, "but at the same time, we are preparing them for the real world."
Copyright 2018 The Lawrence Journal-World. All rights reserved. This material may not be published, broadcast, rewritten or redistributed. We strive to uphold our values for every story published.