Michael Bennett is pleased he chose to study at Kansas University's School of Pharmacy.
The native of Kinsley in western Kansas is a third-year student earning his doctor of pharmacy degree, which is an undergraduate, entry-level professional practice degree.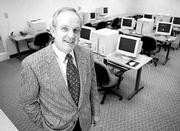 "It's tough, and it's a lot of work. But to be adequately trained in this field, it has to be that way," said Bennett, 24. "The School of Pharmacy has no regrets on the difficulty of the academic program. We've been told before that they feel it's necessary in order to be a well-trained pharmacist."
Bennett's opinions of the program would be music to the ears of Jack Fincham, dean of the School of Pharmacy.
Fincham said he believes the school does an excellent job of preparing its graduates to meet the future.
"When our students finish here, they are as good as graduates of any program in the country," Fincham said.
Aside from preparing students in its professional program to enter careers in the pharmacy field, though, the school is a center of research.
"We're very excited in the school with any number of research efforts, including: people who are doing cutting-edge research on drug-delivery mechanisms; people on the cutting edge of cancer research and therapies that treat various types of cancers; and individuals who are involved with top research programs in the country, and world, dealing with drug discovery and development," Fincham said.
Since 1996, the school has offered only the doctor of pharmacy degree.
Earning it requires two years of undergraduate coursework in general studies such as chemistry or biology, as well as four years of study and training in the School of Pharmacy.
The school's curriculum has been revised to offer the education and experiential training that will provide students in the professional program with the knowledge, skills and ability they'll need to be a pharmacy practitioner.
The school's full-time faculty numbers about 45. Three of the school's departments Pharmacology & Toxicology, Medicinal Chemistry and Pharmaceutical Chemistry offer master's and doctor of philosophy degrees. The other department, Pharmacy Practice, offers master's degrees.
Fincham said there are about 480 students in the doctor of pharmacy degree program and an additional 80 students in the graduate program. He estimates that 95 percent of the students in the school's professional program are from Kansas, with the rest coming from surrounding states.
Graduate students, however, come from around the world.
The school enjoys a good reputation across the country for two reasons: "One reason is the strength and quality of our faculty, who are internationally known.
"Secondly, our students are well respected because of their quality and their achievements," Fincham said.
The school is home to a variety of significant research projects.
Ken Audus, chair of the department of pharmaceutical chemistry, said, "The department's emphasis has always been on ways of improving drug delivery. By that I mean identifying some natural system in the body that we can manipulate to achieve better drug therapy."
Faculty in Audus' department are working on a diverse group of projects, such as cyclodextrins, which help make drugs soluble in the body. That's the specific area of Valentino Stella, a professor of pharmaceutical chemistry.
"He's trying to provide a means to make drugs more available (in a person's system) when they are taken, either orally or through IV or however they're administered. He's trying to modify either the drug itself or add something to the drug to do that," Audus said.
Gunda Georg, a distinguished professor of medicinal chemistry, is redesigning the cancer drug Taxol so that it can cross the blood brain barrier, which is a tightly contained filter or wall.
This barrier makes it difficult to treat brain cancer, because it repels anti-cancer drugs like Taxol.
"Gunda designs chemicals, and then they come over to our laboratory, where we have an in vitro and animal model of the blood brain barrier," Audus said.
"Then we determine whether or not she's been successful in making chemical modifications to the (Taxol) molecule. It has use in treating brain cancers, if you can get it into the brain."
One of the professional program's strengths is the broad range of experiences that students get during a series of nine rotations in a variety of settings, according to Christy Berger, a clinical assistant professor in the department of pharmacy practice.
She also is director of the Pharmacy Practice Experience Program, working with students who are doing their rotations in Lawrence, Topeka and the Kansas City area.
During their last year in the school, students rotate through positions in retail pharmacies, home health care agencies, community clinics and 15 to 20 rotations on the campus in Kansas City, Kan.
Students benefit from working with people in community clinics who lack the resources to otherwise afford quality health care.
"Some of the experiences students have with indigent patients increase their compassion and their understanding of health care in America," Berger said.
"It's certainly very rewarding to see the students go through their didactic program, and then see it all come together for them (in the rotations) with information they feel confident they can use."
Copyright 2018 The Lawrence Journal-World. All rights reserved. This material may not be published, broadcast, rewritten or redistributed. We strive to uphold our values for every story published.