The face of Kansas University's Lawrence campus is constantly changing, and the next two years will be no exception.
Four major projects, totaling an estimated $24.84 million, are in the construction pipeline. By fall 2002 all four will either be completed or well on their way, KU officials said.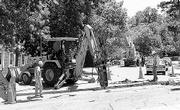 The two biggest projects are a new Student Recreation and Fitness Center, carrying a price tag of $17.1 million, and the third phase of an addition and renovation of the Kansas Union, projected to cost about $5.68 million.
Behind that is construction of a building to house radio station KANU-FM 91.5, with an expected cost of $1.5 million. Also planned is a $560,000 renovation of Strong Hall's second-floor west wing, home of the College of Liberal Arts and Sciences administration.
The new recreation center will relieve the growing burden on Robinson Center, where students have gone for years to swim and work out. Four multipurpose gymnasium courts, two racquetball courts, a cardiovascular fitness and weight training center are expected to be included.
Also under consideration are a rock-climbing wall, a walking and running track, locker rooms and a student activities center.
In July, KU officials said the recreation center was in the design stage. Projected completion is late 2002.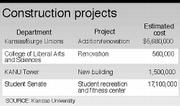 "We're getting some sketches together," KU architect Warren Corman said. "We hope to get into the final design and the bidding process by late fall."
The recreation center will be built between Watkins Memorial Health Center and 18th Street, where a field now exists.
More options
Students entering the Kansas Union should see some changes from ongoing renovation. Among the latest additions will be a 24-hour convenience store and a third-floor food court that will include areas for coffee, salad and Mexican and Chinese food. The familiar logos of Burger King and Pizza Hut also will be found.
There's more to come.
The west side of the union will be expanded. On the first level, landscaping will be spruced up and the entrance will be redone so that it more closely lines up with the Helen Foresman Spencer Museum of Art across Mississippi Street to the west, said Pat Beard, director of union services.
Next to the Jaybowl bowling alley on the first level, a video and stage area will be built. It will be an area where bands, comedians and others can perform, Beard said.
An addition on the northwest of the union, where Baumgartner Drive passes under the building, will house the Oread Bookstore, allowing it to be separate from the store that sells textbooks, Beard said.
"There will be a place for book signings and there will be a very nice, scenic view to the west," he said.
A new stairwell will be built that passes through all six levels of the union. It will take up about half of what is now the Prairie Room dining area and will allow visitors to more easily find their way around the building, Beard said. The stairwell will be called Tradition Towers and its walls will display KU recognition plaques and memorabilia.
"We're looking for something that will be an attraction for graduates when they come back for a visit," Beard said.
Also planned is an open but covered walkway connecting the multilevel north parking lot to the union.
"We think that will be pretty handy," Corman said.
The final phase of the union construction is expected to be completed by August 2002, Beard said. Construction bids were being studied in July.
A new building to house KANU can't come too soon for General Manager Janet Campbell. Since 1952 the station has broadcast from what has been know as "the mud hut," east of the Art and Design Building. It was constructed of dried blocks of mud as part of a construction experiment that never caught on.
"It was never meant as a permanent facility," Campbell said. "It has no windows and poor ventilation."
KANU's new home will be built on the north end of campus in the 1100 block of West 11th Street. It will be next to Audio-Reader, a broadcast service for the blind.
Design proposals for the new 6,000-square-foot, two-story building were being studied in July. Once construction starts, it is expected to take about eight months. The new broadcast center should be open by late next year, Corman said.
Administration staff for the College of Liberal Arts and Sciences have relocated to Bailey Hall.
Its old home in Strong's west wing will be renovated with modern air-conditioning units and new toilets. The stay at Bailey is expected to last about six months, Corman said.
There are other previously approved renovation or construction projects on-going at KU, said James Modig, a KU architect.
This summer workers were busy digging trenches and replacing an aged electrical wire and cable distribution system costing $3.3 million.
"We've had a number of power outages," he said. "It's a simple case of old age. Most of (the distribution system) has a lifespan of 20 years, and some of it's about 30 years old."
Copyright 2018 The Lawrence Journal-World. All rights reserved. This material may not be published, broadcast, rewritten or redistributed. We strive to uphold our values for every story published.