Lawrence Community Theatre will be celebrating its 25th anniversary with a new season of popular musicals, comedies and one special historical script.
"We put a lot of thought into it," said Mary Doveton, managing/artistic director. "It's a season that offers a little bit of everything. I hope it's a season people will find appealing and rush to get tickets to."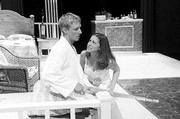 In addition to auditioning for parts in the plays, Doveton said a number of volunteer opportunities are available that allow Kansas University students to get involved in the theater.
Students can work backstage with lighting, sound, set design and props, help in the box office, bake cookies for intermission or serve as ushers. To get involved, call the theater at 843-7469.
The 2001-2002 season includes:
"The Taffetas," in late September. The musical revue, written by Rick Lewis, is about a quartet of singing sisters from Muncie, Ind., who make their national singing debut on TV in 1956. The show features 46 songs, including "I'm Sorry," "Mr. Sandman," "You Belong to Me," "Johnny Angel," "Lollipop," "Where the Boys Are" and "Volare."
"People loved 'Forever Plaid' and this is in the same vein," Doveton said, referring to a show that featured a 1950s male quartet.
Here is the season lineup at Lawrence Community Theatre, 1501 N.H.:"The Taffetas," late September."The Sound of Music," late November-early December."Don't Dress for Dinner," January."Wit," March."Arsenic and Old Lace," April."Reunion," June.To reserve tickets, call the theater at 843-7469.
"The Sound of Music," late November-early December. The popular musical, by Richard Rodgers and Oscar Hammerstein, is about Captain von Trapp, his seven children and their governess, Maria, who disrupts the regimented life of the family. The story ends with the family escaping from the Nazis, who have occupied Austria.
"We've never done this show before," Doveton said, adding the production will be offered over four weekends.
"Don't Dress for Dinner," in late January. The farce, by Marc Camoletti, is about a man who is planning a weekend with his mistress. He has hired a gourmet cook, is sending his wife off to her mother's house and has arranged for his friend to provide an alibi. But, of course, things don't work out as he planned.
"It's fast-paced and a web of mistaken identities, innuendo and cross purposes," she said.
"Wit," in March. The drama, by Margaret Edson, will be directed by Penny Weiner and feature Kansas University anthropology professor Sandra Gray in the lead role. Weiner and Gray worked together on a production of the play recently at Washburn University in Topeka.
The Pulitzer Prize-winning play is about an English professor who learns that intellectual brilliance is not as important as simple human kindness.
"In a university community, it speaks to an audience and gives it an interesting perspective," she said. "But you feel uplifted by it and almost comforted by some of its conclusions."
"Arsenic and Old Lace," in April. The comedy, by Joseph Kesselring, is about Mortimer Brewster, a drama critic struggling to maintain his sanity amid his family of lunatics: His little brother thinks he's Teddy Roosevelt; two elderly aunts invite lonely men to dinner and then poison them; an older brother also kills.
"It's an old favorite, but another show we've never done," Doveton said. "It's fun and will provide some acting opportunities for our more mature actors."
"Reunion," in June. The show, by Jack Kyrieleison, tells the story of the Civil War in songs, words and projected images from that era. The dialogue is shaped from words of more than 75 eyewitnesses that are enhanced by 26 songs, including "Beautiful Dreamer," "John Brown's Body," "Steal Away" and "Battle Cry of Freedom."
"It's a real coup," Doveton said. "We're the first community theater in the United States to do the show.
"I think our audiences will really like it," she said. "It takes an event as enormous as the Civil War and narrows it down to the individual and then shows the individual in a panorama of the event that is taking place."
Doveton said the theater's audiences get bigger each year, and sometimes are larger than the theater can accommodate.
"We sold a record number of tickets this year," she said of the 2000-2001 season, "but it's always a gamble. We really don't know what audiences will like, especially in Lawrence where they have so many choices. And, because of the theater's budget restrictions, there is little money to market the productions so the theater relies on word-of-mouth to draw in audiences."
Copyright 2018 The Lawrence Journal-World. All rights reserved. This material may not be published, broadcast, rewritten or redistributed. We strive to uphold our values for every story published.