Forget what you've heard about how hard it is to get decent grades in college.
You only have to do three things: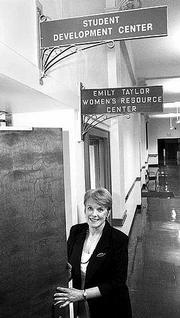 Go to class.
Pay attention.
Do your homework.
Chances are everything else will fall into place. You may not get all A's, but you should do all right.
Each year, KU's Student Development Center offers a series of free workshops designed to help students improve their study habits. All workshops are from 4 p.m. to 5 p.m. Reservations are not required.This year's workshops include:Time and Priority ManagementSept. 5, Pine Room in the Kansas UnionOct. 30, Lewis HallHow to StudySept. 19, Pine Room in the Kansas UnionNov. 13, McCollum HallPreparing for and Taking ExamsOct. 3, Pine Room in the Kansas UnionGetting Ready for FinalsDec. 4, Oliver HallManaging Test AnxietyDec. 11, Visitors Center in Templin HallThe center also will offer first-semester tutoring sessions on the following classes:Math 002, 101, 104, 115, 116, 121, 122Chemistry 184, 188Spanish 104, 108, 212, 216Biology 100Twice-a-week, 90-minute sessions cost $85 for the semester. For more information, call 864-4064.
But if your grades don't match your effort i.e.. you're shooting for an As, but you're getting Cs be sure to check out the folks at the Student Development Center in Room 22 in the basement of Strong Hall. They're open from 8 a.m. to 5 p.m. Monday through Friday.
It's a good idea to call ahead for an appointment (864-4064), but it's not required.
Mary Ann Rasnak, director of the center, and the other employees aren't there to do your homework. But they will help you figure out how to get more out of your studies.
There's a lot you need to know. For example, studying and doing well on tests are not the same thing.
Storage vs. retrieval
"When you study, you're basically storing information in your long-term memory. That usually means you're reading, reading, reading," Rasnak said. "That's good, but taking a test isn't about storage, it's about retrieval.
"So when you're studying you need to set aside some time to see how much you can remember without looking at the book or at your notes."
For example, if you're assigned 12 math problems, Rasnak suggested doing the first 10 with the book open and the last two with it closed. She's also a big fan of using flashcards for self-testing.
And there's nothing wrong, she said, with using previous years' exams to test yourself.
"Some students think that's not being academically honest, but a lot of professors make (past tests) available because they're a good way to measure what you know and what you need to work on."
It's a good idea to take the sample exam two days before the real deal, she said.
"If you get 75 percent of the questions correct, then you have two days to work on subject matter covered by the 25 percent you missed," she said. "It gives you a good idea of what you need to focus on."
Test tips
A couple of test-taking tips:
On multiple-choice questions, don't get bogged down comparing answers with other answers. Instead, compare the answers with the question.
On essay questions, remember that organization is everything. Do not "brain dump."
"Let's say the question is 'What were the causes of the Korean War?' and you remember the professor saying the causes were social, economic and political," Rasnak said. "Then your first sentence needs to be 'The Korean War was caused by a collection of social, economic and political factors,' and then you go from there.
"That way, whoever grades the test will know from the start that you at least have a grasp on the bigger picture," she said. "That's what essay questions are for they measure your understanding of the bigger picture."
Another good idea: Talk with your instructor.
When Iowa State University surveyed its professors on the traits of their best students, three of the top four responses involved communication in class and out, Rasnak said.
"Professors really do want to get to know their students," she said, adding that student-professor conversations don't have to be about class.
"It can be about anything," she said. "This is KU you can talk about basketball. You can just say hi."
Don't struggle alone
So what does such chitchat have to do with making better grades? It's not about sucking up, Rasnak said, it's about rapport. It's also one of the big differences between college and high school.
In high school, if your teacher thought you looked confused, he or she probably asked if that was the case.
"But in college, that teacher is thinking 'Gee, that student looks confused. I hope he or she comes to see me,'" Rasnak said. If there's rapport, that conversation is much more likely.
Often, students struggle because they're having trouble finding time to study.
That time is there, Rasnak said, but some students just can't find it. One option is between classes, she said.
"It's very common for students to think, 'Oh, I can't get anything done between classes. It's only an hour.' So they use that hour or two for naps or coffee or reading the newspaper."
While that's not a bad thing, she said, those hours can add up.
It's better, she said, to use that time to go over flashcards, skim reading assignments or review class notes.
"Again, if you have 12 math problems, you can probably get two or three done in an hour," Rasnak said.
That's a big help, she said, because studies on procrastination show that "no matter what the task, the hardest thing to do is get started. The second hardest thing it to finish."
So, she said, when you get back to your room, it's a lot easier to finish an assignment you've already started.
Time also likes to hide in computers and TVs.
"We really encourage people to stay away from all things electronic," Rasnak said.
"By that I mean, how many times have you told yourself 'I'll just take a minute to check my e-mail,' and then, sure enough, there's an e-mail and it has a link in it, and so you click on it and then you're on the Internet. Before you know it, two or three hours have gone by."
Same thing with TV, where pausing for a favorite one-hour show can end up taking half the night.
"We all do it," Rasnak said.
Too many students, she said, are quick to sacrifice their sleep time for study time. It's not a good trade.
"Your body has to get some sleep," Rasnak said, noting that one of the center's exercises has students plot out how they spend the 168 hours that come with every week.
"It's not unusual," she said, "for 'sleeping' to come somewhere in the low 30s. That's not enough."
Copyright 2018 The Lawrence Journal-World. All rights reserved. This material may not be published, broadcast, rewritten or redistributed. We strive to uphold our values for every story published.