If you're wearing flip-flops and talking on a cell phone on the Hill, you are officially in college at Kansas University.
During the past few years, the popularity of cell phones has grown dramatically.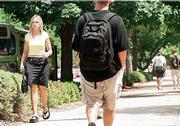 "The cell phone has been a pretty intricate part here," said Will Cook, a Chicago senior majoring in sports information. "It just seems like everyone has a cell phone. You see them in your classes and on campus."
But KU students say it's rude to have your phone ring especially in class. So, please turn them off.
"Cell phones can be annoying," said Lisa Peterson, a Kansas City, Mo., junior majoring in business. "Students talk to their friends on the phone while they're walking on campus."
Retro returns
While cell phones are a modern accessory, today's fashions are a blast from the past.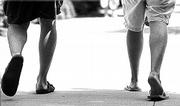 For young women, the capri pant remains one of the hottest retro fashions from the 1950s. Back then, the slim calf-length pants often were dubbed the "cigarette pant." Updated versions are embroidered and bejeweled, and come in wild Hawaiian prints and bright, bold colors.
Peterson said she and her friends wear capri pants on campus and when they go out on the town.
"Now that it's getting warm-er capri pants with tank tops and flip-flops are a big thing," Peterson said.
Krista Kearney, an Overland Park senior majoring in communications, agrees.
"A lot of us wear capri pants to class with a jean jacket sometimes, depending on the weather," she said.
Today's denim jackets are darker and cropped unlike the 1980s styles that were stonewashed and faded. Long denim jean skirts also are in.
Jeans are always in style, often paired with a tank top, a flesh-baring one-shoulder top or a T-shirt.
Peterson said students opt for several styles of jeans, such as bootcut, low waist and flared.
"For tops, you see a lot of light blue and pinks this year," she said. "You still see a lot of black and are starting to see some more orange."
And when you've got to wear shades, Kearney suggests colored sunglasses. At several Lawrence stores, the bright specs come tinted in red, blue, yellow and lilac reminiscent of the groovy 1970s. Just picture much smaller frames.
"What's really popular are the colored sunglasses in shades of pink or with a jewel on the side," she said. "It accents your outfit."
Other must-have accessories: hoop earrings and ladylike purses, Kearney said.
For carrying their cell phone, ID and make-up, women need the oh-so-cute purse.
Kearney said purses and handbags designed by Kate Spade are "in" because she's a Kansas City native. Spade's purses come in various fabrics, styles and simple to wild colors, but they aren't cheap. Prices usually start at $169 and sales are few and far between. (Hint: Look for off-season styles on sale at Nordstrom at Oak Park Mall in Overland Park).
Kearney said some students also like designer Louis Vuitton's leather handbags.
For guys, J.D. Clark, a Topeka senior majoring in business communications, said it's about being stylish and comfortable.
"Fashion varies for guys, but it's good to have a name-brand two-button collar shirt and cargo pants or J. Crew pants are nice," he said.
Cook said he likes to wear a variety of styles from classic to vintage retro because some articles of clothing never go out of style. He suggests having a pair of black or gray pants and a nice shirt, especially for going out on dates.
"For a guy, I think you need a nice pair of black shoes," he said. "I wear Kenneth Cole. I think it's also very key that you have a nice pair of dark jeans. It's nice to have as a dress-up or dress-down look."
For fashion on The Hill, Cook said name brands don't always matter because styles are as diverse as the student body.
"It's such a variety of what people wear from where they're from and what they pick up from who they hang out with," he said. "What's cool but very rare is just being yourself."
Copyright 2018 The Lawrence Journal-World. All rights reserved. This material may not be published, broadcast, rewritten or redistributed. We strive to uphold our values for every story published.