Jeanne Klein, director of Kansas University's Theatre for Young People, believes Lawrence takes the theater company for granted.
After all, how many Kansas communities have a children's theater company made up of university students who present numerous school performances as well as main-stage productions each year?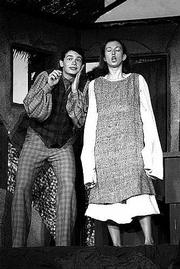 "They don't know we are one of the nationally recognized university theater programs across the country," said Klein, associate professor of theater and director of Theatre for Young People. "It's a result in part through networking with other professionals in the field."
Klein routinely attends meetings and conferences sponsored by the International Association of Theater for Young People and the Bonderman Symposium sponsored by Indiana University and Purdue University.
"I'm constantly on the lookout for new plays by high-profile playwrights, and to bring to Lawrence the same plays being done across the nation," she said.
This academic year, Theatre for Young People will present two plays, both of which carry a message for young theatergoers.
"Afternoon of the Elves" will be performed for Lawrence-area public school students in grades 4-6 on Oct. 29-31 and Nov. 1-2, with a public performance at 7 p.m. Nov. 3 in Crafton-Preyer Theatre in Murphy Hall. The script is an adaptation by Y York based on the Newbery Honor Book by Janet Taylor Lisle.
The play is about 11-year-old Sara Kate who is shunned by the other girls at her school. But 9-year-old Hillary becomes intrigued by Sara Kate's dilapidated house and the elf village in her overgrown back yard. Eventually Sara Kate tells Hillary her darkest secret that she is poor and taking care of her ill mother.
Kansas University's Theatre for Young People will stage two productions this year. Here are the dates for the public performances, scheduled in Crafton-Preyer Theatre in Murphy Hall:"Afternoon of the Elves," 7 p.m. Nov. 3."Tomato Plant Girl," 7 p.m. Feb. 9.For ticket information, call the Murphy Hall Box Office, 864-3982. The box office is open from 11 a.m. to 6 p.m. Mondays-Fridays.
"I've been wanting to do this play for a while," Klein said. " We need to tell all the stories that kids live through, and to let them know that being poor doesn't mean you aren't happy or don't have hopes and dreams. We need to tell the stories of lower-class children who have stamina and imagination and need to stay with their families.
"The characters can address issues facing young people. (The play) can be a trigger for discussion."
"Tomato Plant Girl," by Wesley Middleton, will be presented to children in grades 1-3 on Feb. 4-8, with a public performance at 7 p.m. Feb. 9 in Crafton-Preyer Theatre.
In this play, Bossy Best Friend convinces Little Girl to give a healthy tomato plant to her because she killed her own plant by neglect. Little Girl cares for the plant and it grows up into Tomato Plant Girl. This allegorical fable expresses how children, like plants, can nurture friendships with care and compassion.
"These plays are made to go together," Klein said, who will serve as director of each. "They're both about girls, friendship, growing up and imagination."
Klein said Theatre for Young People not only brings plays to the youngsters in the community but also serves as a training ground for KU theater students.
"For actors it's a totally different experience to hear the immediate response or vocal feedback from the children," she said.
After each school performance, some of the cast members and Klein conduct a drama workshop to learn from the students' responses and questions.
"You have to understand those responses from the child's point of view," she said. "Just because we were children at one time doesn't mean we understand kids."
Copyright 2018 The Lawrence Journal-World. All rights reserved. This material may not be published, broadcast, rewritten or redistributed. We strive to uphold our values for every story published.