The Kansas University Marching Jayhawks are deeply rooted in tradition. The marching band is more than 100 years old. But last year, the 29-year legacy of band director Robert Foster ended when he stepped down and a new kid on the block picked up the baton.
Tim Oliver became director of the Marching Jayhawks a year ago, replacing Foster who had held the post since 1971. Oliver was working with marching and concert bands at Florida State University while earning his doctoral degree when he was hired for the KU post.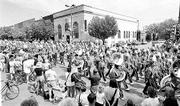 Despite being a new director of an old program, he's had a relatively easy ride so far, band faculty and students say.
"He has kept some of the old traditions since KU is really big on tradition, slowly adding his own ideas," band vice president Lori Neuman said.
That balancing act hasn't been difficult, Oliver said. In fact, it's the marching band's history as a top-notch program that attracted him to KU in the first place.
"I wanted to go someplace that had a strong tradition in place," Oliver said. "I didn't want to go someplace and reinvent the wheel."
Oliver's position with the KU band program was newly created. For years the faculty was short-staffed, and Foster simultaneously held the umbrella position of director of bands and the Marching Jayhawks director position.
"It's like being athletic director and football coach at the same time," Foster said.
Now Foster is free to oversee the other areas of the KU band program, including concert bands, men's and women's basketball bands, wind ensemble and others.
A native of Missouri, Oliver said he came to Kansas to get back to the Midwest and to join KU's consistent, yet open-minded staff.
"One of the things important to me was having an environment that would be supportive and allow me to bring in my ideas and my vision of what's ideal for a band program," he said.
Oliver said he has been warmly received by the faculty and students at KU. He says he doesn't feel intimidated by being handed the baton from Foster, a director of national and international stature.
"If anything it was helpful to have someone like Mr. Foster there who has the experience," Oliver said. "I do things a little differently but anyone who takes on the band is going to do things differently."
Foster said he's been pleased with his predecessor.
"That position really is a combination of music and athletics," Foster said. "It's something he really enjoys and is good at."
Neuman said what Oliver does best is interact with students. He's always seeking students' advice, recommendations and feedback.
"He thinks about the students a lot and sees what they can do," Neuman said. "That's a good thing about him."
Oliver said his interaction with band members is no accident.
"I count on my student leaders a lot," he said. "I'm looking for their leadership and am looking for their ideas."
The changes Oliver has made have been subtle, he said. Traditions, including the pre-game show, remain untouched. However, he has tried to have a halftime show for every game and to give the shows variety with different styles of music.
"This (past) year has been a great year and made me very glad I got the offer here and confirmed that this was a good place to be," Oliver said.
Copyright 2018 The Lawrence Journal-World. All rights reserved. This material may not be published, broadcast, rewritten or redistributed. We strive to uphold our values for every story published.