Kansas University's aerospace department is leading a cross-disciplinary effort to design, build and eventually fly a satellite into space. The effort includes engineers, biologists and even students studying public relations.
If successful, the satellite would use a laser altimeter to measure glaciers as a way of determining the pace of global warming.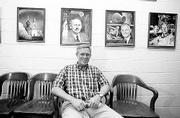 Mark Ewing, associate professor and chairman of aerospace engineering, said an effort to actually send teams to the glaciers would be prohibitive.
"You just can't send out people to do high-accuracy surveying," Ewing said. "The only reasonable way to measure (the effects of global warming) is through satellite sensing."
The project was originally slated as an entry for NASA's University Earth System Science competition. The winner would have received $15 million to design, build and fly the satellite. NASA canceled the program over the summer, however.
KU officials vowed to press ahead, and have formed a foundation to help fund the project.
"The focus is still there," Ewing said. "We're still seeking funding for a satellite launch."
A seminar class at KU has already focused on the technical aspects of building the satellite to do its job.
"We talked about science, remote sensing, geographical information system, writing a business plan and spacecraft design," Ewing said.
The university would cut construction costs by buying a spacecraft "bus." The space-ready framework has a series of attached instruments into which the university can place its own instruments to complete the package. That alone could cost as much as $8 million.
Unless substantially more than the $15 million grant is found, that wouldn't leave too much money to actually get the satellite into space.
"You've got to get a piggyback ride," Ewing said. "You can't afford your own rocket."
The options: Send it up on the space shuttle or as a secondary satellite on a rocket that has payload room to spare.
And that could change the satellite's mission. To measure the glaciers, the satellite would need to be launched into a polar orbit, circling the earth from top to bottom instead of around the latitudes.
"Whether or not we can get in that orbit depends on the launch vehicle we can hitch a ride on," said Trevor Sorensen, an associate professor of aerospace engineering. "If it goes onto the space shuttle, the primary mission of measuring the glacial ice packs won't work."
That's because the shuttle isn't launched into polar orbits.
So KU scientists are hoping to catch a ride on another rocket that has payload room to spare. If not, a backup mission is planned: use the laser altimeter to measure the density of forests, another way of determining the pace of global warming.
KU professors have already led several classes in support of the project. Last spring, eight students worked to design a Web site, which has not been made public, promoting KU's involvement in the project. That, Ewing said, was because a similar 1999 proposal failed in part because NASA thought it was "light in outreach."
Andy Hom, a senior in industrial design from Springfield, Mo., helped design the site. He was initially star-struck by the project.
"I think initially, 'satellite' and 'NASA' are in capital letters in your brain," he said. "But as we wore on, it got to be just like any other Web site."
That's not to say the project wasn't a learning process.
"The interdisciplinary aspect has been most educational, to see how different sciences have different approaches," Hom said. "Before I figured that out, it was hard to collaborate, but after that it was much better."
KU faculty and students would help prepare the satellite for launch and have some time to directly control it after it reaches space. However, now that the NASA program has been canceled, KU officials don't know when or if that might happen.
But in any case, Sorensen said the university should benefit from the experience.
"KU has traditionally been very strong in aircraft design, but been very weak in astronautics and spacecraft," he said.
The design project and any funding that comes with it should correct those deficiencies.
The global warming research also creates a practical reason for the project, Ewing said.
"If Greenland melts," he said, "we'll all have problems."
Copyright 2018 The Lawrence Journal-World. All rights reserved. This material may not be published, broadcast, rewritten or redistributed. We strive to uphold our values for every story published.