Tourism leaders continue to battle on two fronts in an effort to attract to the city visitors interested in the area's bloody pre-Civil War history.
Lawrence Convention and Visitor's Bureau Director Judy Billings confirmed her department is still participating in early plans to develop here a multimillion-dollar, national-caliber museum focusing on the abolitionist movement that helped push the country into Civil War.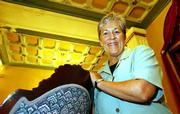 Billings also said a separate area group is considering lobbying Congress to designate the entire eastern area of the state a National Heritage Area, which would give the region more recognition through the auspices of the National Park Service.
But for now, the largest campaign is clearly the abolitionist museum, and it is also the effort that could produce a battle among area cities seeking to land it as a boon to tourism.
Lawrence is expected to be in competition with Osawatomie, Topeka, Kansas City, Kan., and other area cities that want the museum.
"I'm expecting it to be a very competitive process," said Billings, who is vice-chair of a 32-member committee studying the issue. "At some point we'll have to duke it out with those other communities, but for now we need to stick together and work together to convince people that the idea in general is a good one."
WIll it work?
Committee members say they still need to convince themselves the idea is feasible. Bill Coulter, a Miami County historian who chairs the committee, said the group is trying to figure ways to raise $30,000 to $50,000 to pay for a feasibility study on the museum concept. Coulter said he hopes to have a study started in the next six months.
"We think it is a good idea because we don't believe there is any one museum in the entire U.S. that gives an accurate and complete history of the pre-Civil War era," Coulter said. "But we need to get a plan in place so we can get that support from the public. That will be the key factor. We have to have that support. We have to present a plan to the public that will make us say this a no-brainer for us to support."
Finding the $30,000 to $50,000 to fund the study will be critical. Coulter said the group is considering a variety of options, including applying for state grants, seeking private funds, or perhaps asking the state legislature for an appropriation.
Federal funding
If the idea is feasible, committee members say they hope to land federal funding to build the museum, which Coulter estimates could be a $5 million to $10 million project. The group may have the makings of a good ally for a federal funding request in Sen. Sam Brownback, R.-Kan.
Brownback in early spring of this year sent a letter to various state tourism and history officials saying that he thought the idea of a national abolitionist museum might be a good one, well-suited to eastern Kansas. But Brownback has not started the wheels in motion to receive any funding for either the feasibility study or the project itself, Coulter said.
"My analogy of what Sen. Brownback did was that he planted a seed," Coulter said. "He's said it would be good for Kansas and probably something he could support.
"I think what we have to do as a committee is come up with a plan of value before we can approach the senator and ask him for support," Coulter said. "We're probably going to have to raise some funding on our own before we can go to him."
A story to tell
Lawrence tourism and history leaders said the idea is one that could win public support here.
"I think it is the most compelling story that we have to tell," Billings said. "We certainly have other things, like the history of basketball, but the most important story we have to tell is the abolitionist story. This is where the Civil War really began, and that is a story that is not told very well."
Steve Jansen, director of Watkins Community Museum of History, said Lawrence certainly has the history to warrant a national museum.
"We were sort of the Selma, Ala., or the Little Rock, Ark., of the 1850s," Jansen said. "Events did happen throughout northeast Kansas, but more events happened in Lawrence than anywhere else. It's a great story to tell. This is literally a place where people died because of this struggle.
"Once when I was researching I found more than 200 letters from Lawrence residents that were printed in Boston and New York newspapers during a six-month period of the 1850s. That, as much as anything, told me how much Lawrence was the center of the nation's attention during that time."
From an economic standpoint, Billings said the museum could make Lawrence the subject of national attention again.
"It would definitely be that type of destination driver that would make folks from across the country want to come to Lawrence, Kansas," Billings said.
That type of attraction is the major component that Lawrence is lacking from its tourism plan, Billings said.
"Developing something for visitors to experience once they get here has been our biggest challenge," Billings said. "We have several self-guided tours on the subject, but we need something more for them to do. A national abolitionist museum would give us that."
National Heritage Area
Billings is also leading the second major effort to draw attention to both Lawrence and the area's antebellum history. Billings said the Territorial Kansas Heritage Alliance, a nonprofit group based out of Billings' Chamber of Commerce office, has begun exploring designating the region as a National Heritage Area.
"It would be the Bleeding Kansas story that we would want to highlight," Billings said. "There's no reason to believe that we couldn't get that designation, because the story is a very important one, but we just need to find out more about the process."
Winning a designation would require an act of Congress, but Billings said she believes it may be an issue local Rep. Dennis Moore, D.-Kan., may be willing to help with.
"We're interested in it because it would give us a lot of visibility," Billings said. "It would put us on the National Park Service Web site, and it would make us more visible on maps and that sort of thing."
Billings said the application process, which has some similarities to placing a house on the National Register of Historic Places, may take the better part of a year to complete.
Copyright 2018 The Lawrence Journal-World. All rights reserved. This material may not be published, broadcast, rewritten or redistributed. We strive to uphold our values for every story published.