The Lied Center is making some French connections this season.
BeauSoliel, a Cajun band from Louisiana; "Orfeo," a four-dimensional production from Quebec; Lyon Opera Ballet from France; and "Dance, the Spirit of Cambodia," a project of the Royal University of Fine Arts in Phnom Penh, Cambodia, will bring aspects of the French culture to Lawrence.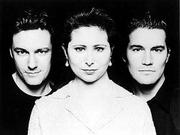 The French listings are a carry-over from the Lied Center's Cultural Countdown to the Millennium Project, a three-year project that began in 1998-1999 and was funded in part by the National Endowment for the Arts.
In past seasons, the Lied Center has presented events that highlighted Latino, African-American and Asian/Asian-American influences in the performing arts.
BeauSoleil will perform at 7 p.m. Aug. 24 during the annual free outdoor concert on the northeast lawn of the Lied Center. An informational fair will begin at 6 p.m.
Another event that is not part of any of the regular series is the premiere of a new script by Bruce King performed by Haskell Indian Nations University's Thunderbird Theatre. The play will be 7:30 p.m. Oct. 4.
And there's good news for parents who want to bring their children to events on school nights and for those who like to be in bed by 10:30 p.m. The Lied Center will be beginning its shows earlier.
Season tickets and single tickets for the Lied Center Series are on sale. Several ticket packages are available.To order tickets or for more information, call the Lied Center Box Office, 864-ARTS (2787).
Here is a rundown of the new season:
Concert Series
Oct. 9: The Houston Ballet in Stravinsky's "The Firebird," 7:30 p.m.
Nov. 9: Jazz pianist Billy Taylor and jazz vocalist Kevin Mahogany, 7:30 p.m. Mahogany is a graduate of Baker University in Baldwin.
Feb. 5: Soprano Harolyn Blackwell and mezzo-soprano Florence Quivar in "America Sings: A Celebration of American Composers," 7:30 p.m.
Feb. 28: St. Petersburg Philharmonic Orchestra, 7:30 p.m.
March 10: Teatro Lirico D'Europa in Verdi's "Rigoletto," 7 p.m.
Swarthout Chamber Music Series
Oct. 14: Guarneri String Quartet, 2 p.m.
Nov. 4: Perlman-Nikkanen-Bailey Piano Trio, 2 p.m.
Jan. 20: Phoenix Bassoon Quartet from the University of Costa Rica, 2 p.m. Directed by Kansas University graduate Isabel Jeremias.
Feb. 17: The Academy of St. Martin in the Fields Chamber Ensemble, 3 p.m.
April 14: The Hutchins Consort, 2 p.m.
New Directions Series
Oct. 6: Flutists Paul Horn and R. Carlos Nakai, 7:30 p.m.
Oct. 26-27: "Orfeo," a production involving video, dance, theater, music, voice and holographic imagery created by Michel Lemieux and Victor Pilon, 7:30 p.m.
Nov. 1: Hubbard Street Dance Chicago, 7:30 p.m.
Feb. 2: Pilobolus Dance Theatre, 7:30 p.m.
Feb. 14: Jazz singer/songwriter Nnenna Freelon, 7:30 p.m.
Broadway and Beyond Series
Oct. 13: "Ragtime," 7:30 p.m.
Nov. 20: "Cookin'," modern rock, jazz, comedy and dance from Seoul, Korea, 7:30 p.m.
Dec. 6: "My Fair Lady," 7:30 p.m.
Feb. 8-10: "Stomp," 7:30 p.m. Feb. 8, 5 p.m. and 9 p.m. Feb. 9 and 2 p.m. Feb. 10.
April 19: "Buddy: The Buddy Holly Story," 7:30 p.m.
Lied Family Series
Nov. 1: Hubbard Street Dance Chicago, 7:30 p.m. (also part of the New Directions Series).
March 2: Los Angeles Guitar Quartet, 7 p.m.
March 12: SQUONK in "Bigsmorgasbordwunderwerk," 7 p.m.
April 6: Aquila Theatre Company's "The Tempest," 7 p.m.
April 7: Aquila Theatre Company in "The Wrath of Achilles," 2 p.m.
World Series
Sept. 22: "Dance, the Spirit of Cambodia," 7:30 p.m.
Oct. 23: Ju Percussion Group, from Taiwan, 7:30 p.m.
Jan. 20: Phoenix Bassoon Quartet, 2 p.m. (also Swarthout Chamber Music Series).
April 30: Lyon Opera Ballet, 7:30 p.m.
Copyright 2018 The Lawrence Journal-World. All rights reserved. This material may not be published, broadcast, rewritten or redistributed. We strive to uphold our values for every story published.