Tokyo — Nagasaki residents paused Thursday to remember the dropping of an atom bomb that killed as many as 70,000 people in the world's second nuclear assault.
Standing near where the bomb exploded, participants Thursday at Nagasaki's Peace Park bowed their heads, many clasping their hands in prayer as a bell rang out and an air-raid siren filled the skies with its plaintive cry.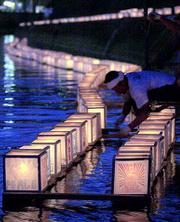 "The citizens of Nagasaki have continuously struggled to realize a 21st century free from nuclear weapons," Nagasaki Mayor Itcho Ito, an outspoken opponent of weapons of mass destruction, said in a speech. "Nevertheless, no fewer than 30,000 nuclear warheads still exist on our planet, and the nuclear threat is today on the verge of expanding into space."
In the annual ceremony, a crowd of attendants observed 60 seconds of silent prayer at 11:02 a.m. the time a U.S. plane dropped the so-called "Fat Man" bomb. City officials estimated the number of participants at 4,500, while more people were expected to visit the park throughout the day.
A bomb dropped on Hiroshima three days before the Nagasaki attack killed about 140,000 people. An estimated 30,000 to 50,000 people gathered Monday in Hiroshima to commemorate the Aug. 6, 1945, atomic bombing there.
Nagasaki is about 600 miles southwest of Tokyo on the main southern island of Kyushu. Hiroshima is 430 miles southwest of the capital.
Japan surrendered on Aug. 15, 1945, bringing World War II to an end.
In an address, Prime Minister Junichiro Koizumi promised to press for the speedy enactment of the Comprehensive Test Ban Treaty a 1996 agreement that would prohibit all test explosions of nuclear weapons as well as other nuclear explosions.
"We will aggressively appeal to other countries for their cooperation in carrying this out," Koizumi said.
So far, 160 countries have signed the 1996 treaty and 67 of them have ratified it. But the United States has been reluctant to ratify and eager to beef up its missile-defense program appears ready to pull out of the 1972 Anti-Ballistic Missile Treaty with Moscow.
The Nagasaki and Hiroshima ceremonies are among a series of poignant services held every summer to recall the final days of World War II.
In late June, residents on Okinawa gather at the "Cornerstone of Peace" park to venerate the quarter of a million people who died in a decisive 1945 battle on the southern Japanese island one of the bloodiest campaigns in the war.
According to the nationwide Asahi newspaper, Koizumi is one of only a few prime ministers to have attended all three memorial services while in office.
Copyright 2018 The Associated Press. All rights reserved. This material may not be published, broadcast, rewritten or redistributed. We strive to uphold our values for every story published.